Atek OnBoard Travel Keyboard for full-size QWERTY lovers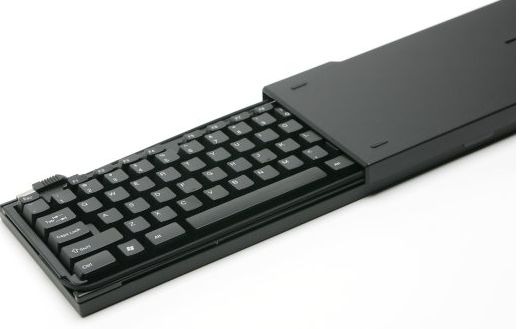 We're always on the look out for sturdy travel keyboards, and Atek's bucks the trend by looking to have the same key size and apparently the same key travel as your desktop 'board.  The payoff with the OnBoard Travel Keyboard is the size: with no folding, rolling or twisting mechanisms, it's still pretty large.  Nonetheless, you get a neat slide-over cover, plus an inflatable wrist-rest.
99 keys are on offer (missing are the Print Screen, Scroll Lock, Pause Break, and right side Ctrl and Windows keys) together with separate numeric keys and a full (if squashed) F-key row.  Connection is via USB (with the cable wrapping around to keep things tidy.  It weighs under 1.4lbs.
The 'board measures 14-3/4 inches long and the cover can act as an angled stand.  The Atek OnBoard Travel Keyboard is available now, priced at $29.99.
[via GottaBeMobile]