ASUS ZenFone 6 teardown is full of strange surprises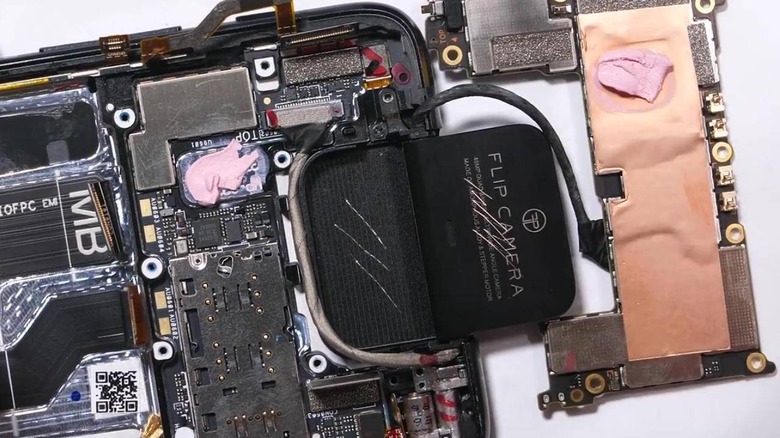 We've seen all sorts of party tricks OEMs have used to have a more or less completely bezel-less screen. Those ranged from popup cameras to notches to punch-holes to dual screens front and back. ASUS' interpretation probably takes the cake for having one that flips the back camera up to face forward. It turns out, however, that the ZenFone 6 has more surprises waiting inside, as JerryRigEverything unfortunately discovered for himself.
Due to that flippin' camera, the ZenFone 6 doesn't have any IP rating. That doesn't mean it's easier to get into. In fact, YouTuber Zack Nelson found out that the adhesive connecting the glass back to the main frame can be a bit gooey, making it harder to remove. Having fragile and easily cut cables near the side makes it an even riskier job.
Strangely enough, the battery inside isn't as glued as tight. In fact, the pull tab seems to serve no purpose and a simple nudge got the battery out. Bonus points for ease but it does leave you wondering about the durability.
While the motor of the flipping camera is unique on its own, the two camera cables that connect the camera to the motherboards are just as special. The cables seem to be wrapped in a durable material but are also attached by non-standard connectors. In other words, pulling them out practically breaks the camera even if the phone still boots up in the end.
The ZenFone 6 may be a wonder to behold and use but it seems it will be a pain to repair. Nelson also notes the silly design of having two motherboards with a thermal paste between them. He theorizes that it will simply be transferring the heat back and forth between the two, so owners should probably try to be aware of the phone's temperature.