ASUS Zenbook UX31A And UX21A Revealed With Ivy Bridge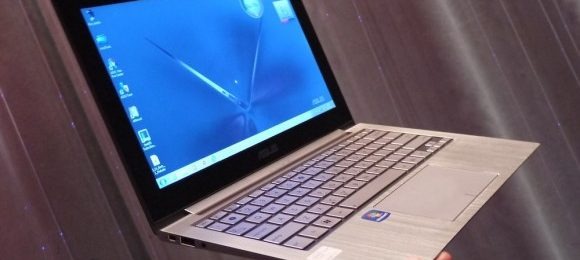 Two new Zenbooks are coming from ASUS this season, the UX31A and UX21A, both of them popping up with impossibly thin chassis, Ivy Bridge under the hood, and matte Full HD IPS displays. The team at ASUS has been bringing the heat over the past few months with computers and tablets the entire industry can be proud of, and these to magic makers are no exception to the rule. Each of these notebooks will be replacements for their previous generation models, UX31A and UX21A replacing US31 and UX21 respectively.
These lovely new notebooks will have matte screen options, amazingly bright and sharp displays, and the excellent ASUS styling we've been seeing over the past year or so. The displays for both of these devices, the 13.3-inch and the 11.6-inch, will be 350 nit bright or 350 nit depending on if you choose IPS or LCD. If you choose the IPS display you'll also have 1920 x 1080 pixel resolution – that being on either model. Strangely enough then if you stick with a regular LCD for either model, the resolutions are different, with 1600 x 900 for the larger and 1366 x 768 for the smaller of the two.
Each of these devices will have a choice of 1.5V 1600MHz DDR3L RAM at 2GB or 4GB, and variants for graphics are being racked up at the moment as well. Choices there include Intel's own integrated HD Graphics 4000 with SATA III SSD at either 256GB or a possible 512GB – the latter being less concrete for a final build than the former (aka not confirmed to be totally real at the moment.) For your Ivy Bridge processors you'll be working with Intel's 17W TDP range of chips including the following options:
• Core i7-3517U, dual-core, four threads, 4MB L3, cache, 2.8GHz (3GHz Turbo Boost)

• Core i5-3317U, dual-core, four threads, 3MB L3 cache, 2.4GHz (2.6GHz Turbo Boost)

• Core i3-3217U, dual-core, four threads, 3MB L3 cache, 1.8GHz
The rest of the hardware should look relatively similar to the previous models you're already well aware of. There's a new "seamless chiclet" design for the keyboards, which are also backlit, which ASUS says will bring forth a more solid experience and "deeper key travel" as well. The larger model will be weighting in at 1.3kg while the smaller will be just 1.1kg, making these two of the lightest devices with this kind of power on the market. ASUS plans on offering the US21A starting at around $1,050 and the US31A at $1,100, though these prices and the release dates are note yet solidified. Cant' wait!
[via The Verge]