ASUS Xonar Essence STX audiophile sound card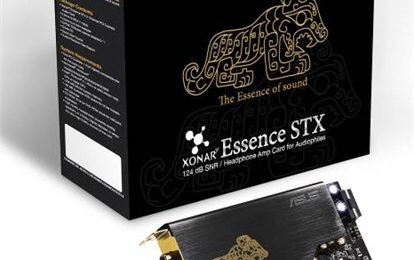 ASUS have announced a new sound card, the Xonar Essence STX, with a Burr-Brown PCM 1792A Digital-to-Analog Convertor (DAC), integrated headphone amplifier with under 0.001-percent distortion rate, and 124dB SNR (Signal-to-Noise Ratio).  Intended for audiophiles, the Essence STX is also capable of driving home theater setups with Dolby Digital Live technology.
The card fits into a PCI-E 1x slot, and has an EMI shield covering the most significant components.  Connections include S/PDIF, quarter-inch headphone and analog-in jacks, and headers for attaching front-mounted case ports.  Interestingly, you can swap out the stock opamps to change the tuning of the Essence.
Hardware Canucks have taken a first-look at the Essence STX and, while they're yet to report on sound quality, the flexibility and build seem to have impressed.  Price and availability for the ASUS Xonar Essence STX are yet to be announced.
[via i4u]