ASUS Windows 8 tablet pricing revealed in leaked holiday roadmap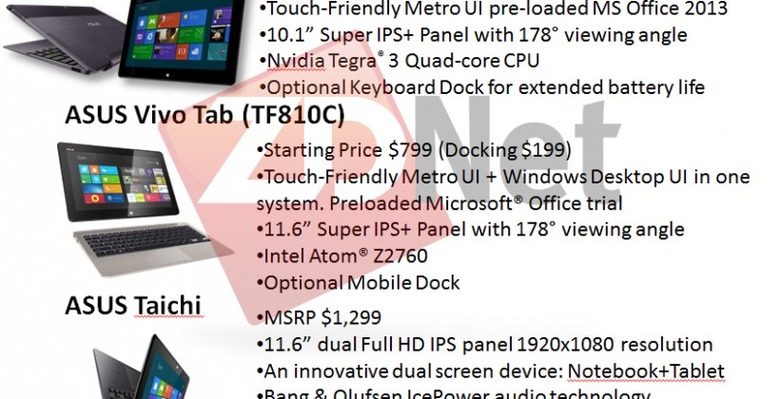 With all of this exciting talk about incoming Windows 8 tablets, it's easy for a detail or two to get lost in the crowd. Once such detail that has been generally missing from announcements and previews is pricing. We've seen what these new tablets can do, but it seems that most manufacturers aren't ready to talk about pricing just yet.
The prices for three incoming ASUS Windows 8 tablets have been leaked today, as part of the company's holiday roadmap. As you can see from the image above, which was secured by the folks at ZDNet, the prices are pretty high, with the ASUS Vivo Tab RT coming in at $599. Its big brother, which is running Windows 8 instead of Windows RT, will set you back $799, and if you want the dock for either tablet, you'll have to shell out an additional $199.
The ASUS Taichi convertible tablet is going to cost you even more, as that has been stuck with a price tag of $1,299. ZDNet says that the roadmap also details a number of other machines that aren't pictured in the image above, including a laptop that is priced at $549 and the next generation Transformer, which comes in at a whopping $1,399. Keep in mind that these prices may change by the time these machines actually hit shelves, but if these are the prices ASUS has decided on, then it's going to have some difficulties finding an audience.
That's especially true when there are other tablets out there available for much less. Why ASUS is pricing these tablets so high when it got the price of the Nexus 7 so right is entirely beyond us (though, to be fair, that may have been more Google's doing), and we doubt that people are going to be jumping up and down for these products after seeing their prices. Still, as is usually the case, we can't say for sure until it's been confirmed, so maybe these products will launch with price tags that are a little easier to swallow. Stay tuned.