ASUS WiMAX Eee PC 1000HG coming; 3.5G Windows 7 1003HA and T91 demo'd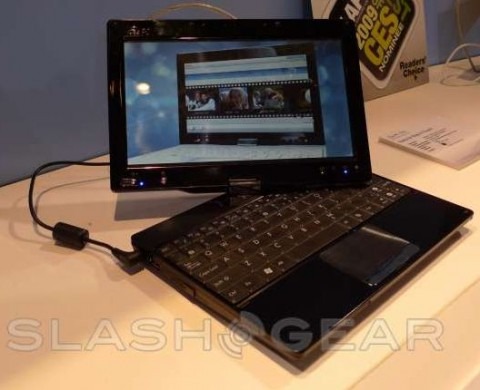 ASUS have announced an upcoming WiMAX-enabled Eee PC netbook, the ASUS Eee PC 1000HG, which will include both IEEE 802.16e and WAVE2 alongside WiFi a/b/g/n.  The company has made no commitment to release dates, but it's part of their Anywhere Connectivity announcements this week at Mobile World Congress.  ASUS have also been showing off several Eee PC models with integrated 3.5G wireless, using an Huawei EM770 WWAN module and Windows 7.
In fact there are two Eee PC netbooks with Windows 7 and 3.5G, taking advantage of the OS' mobile broadband architecture.  Both the Eee PC 1003HA and Eee PC T91 will be used to demonstrate the technology, the former a 10-inch netbook with 160GB hard-drive and the latter ASUS' new convertible touchscreen tablet netbook.
ASUS will apparently offer the 1003HA exclusively through carriers, presumably with data contracts.  There's no word on release dates or geographic availability for the 1003HA, nor whether the T91 will reach the market with the Huawei WWAN option or what it might cost.
[Thanks Riccardo!]Press Release:
Eee PCs™ with Windows 7 Set to Deliver the Best Mobile Broadband User Experience

ASUS Will Demonstrate Its Vision of Anytime, Anywhere Connectivity at Mobile World Congress, Barcelona

Taipei, Taiwan, February 16, 2009 – ASUS, the pioneer and leading producer of ultra-mobile Internet devices, will showcase how 3.5G-equipped Eee PCs™ running Windows 7 allow users to reap the benefits of high-speed mobile broadband connectivity at the Mobile World Congress, Barcelona held from February 16–19, 2009. These Eee PCs™ will be among the world's first to boast 3.5G capabilities designed around Windows 7 mobile broadband architecture, delivering the easiest-to-use, most stable and highest-speed wireless networking experience.

Enabling the Eee PC's™ 3.5G connectivity is Huawei's high performance EM770 embedded module, one of the world's first 3.5G embedded modules developed for Windows 7. The seamless marriage of the Eee PC's™ ultra mobility and Windows 7 will perfectly realize ASUS' vision of anytime, anywhere connectivity at home, work, and on the go.

For the purposes of the demonstration, ASUS will be installing Windows 7 Beta in two of its latest 3.5G-equipped Eee PC™ models: the Eee PC™ 1003HA and Eee PC™ T91. The Eee PC™ 1003HA is a slim and elegant device with a 10" LED-backlit display that comes with 160GB of hard disk storage and an additional 10GB of online Eee Storage. It is slated for sale exclusively through telecommunications carriers. The Eee PC™ T91 features a rotatable touchscreen and a suite of touch-optimized programs that enable users to browse through photos, create digital scrapbooks, scribble handwritten desktop memos for loved ones and much more.

Still on the topic of ubiquitous wireless connectivity, ASUS also revealed that it has an Eee PC™ with both WiMAX and Wi-Fi capabilities on the horizon. The Eee PC™ 1000HG will feature IEEE 802.16e, WAVE2 and Wi-Fi 802.11a/b/g/n support in the 2.4GHz~2.7GHz and 5.1GHz~5.8GHz bands.

Note: Specifications are subject to change without prior notice.