Asus unveils massive triple-slot Radeon HD 7970 DirectCU II TOP GPU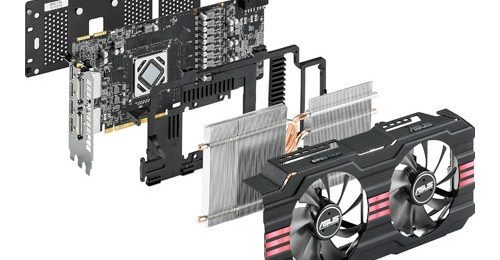 You think your home-built gaming PC is rocking with a dual-slot PCI-E graphics card wedged into your blinged-out case? You haven't seen anything yet. Asus just pulled the curtain off its newest piece of gaming indulgence, the Radeon HD 7970 DirectCU II TOP. It's the latest in the manufacturer's series of factory-overclocked cards, which include massive cooling systems designed to keep the GPU running at efficient combinations of speed, heat load and fan noise. This configuration has a new trick up its sleeve: a triple-slot configuration, where the combined circuit board and cooling unit take up the same amount of space as three normal-sized discrete cards. 
To create the 7970 DirectCU II TOP, Asus used AMD's reference design and built outwards, pairing a huge system of copper blades and pipes with two powered fans. Despite appearances, this card isn't an all-in-one Crossfire solution: it's running a single GPU under all that metal and plastic. The emphasis is on keeping the card running fast while also quiet, and Asus claims that its collection of active cooling creates and impressive 14 decibels less noise than the reference card.
Of course, that doesn't mean that Asus left out the power. The GPU is overclocked to 900Mhz and the 3GB of GDDR5 RAM operates at a frequency of 1,000Mhz – not the absolute fastest we've ever seen, but no slouch, either. In order to safely hold all those components together, the design uses a backplate not unlike the more ostentatious kind of CPU cooler. Two standard DVI connections and four DisplayPort connection hang out on the outward-facing portion of the card. Asus hasn't announced a price or availability yet, but expect this one to be in the $580 range when it hits retail channels.
[via Hot Hardware]