Asus Ultrabooks to be called Zenbooks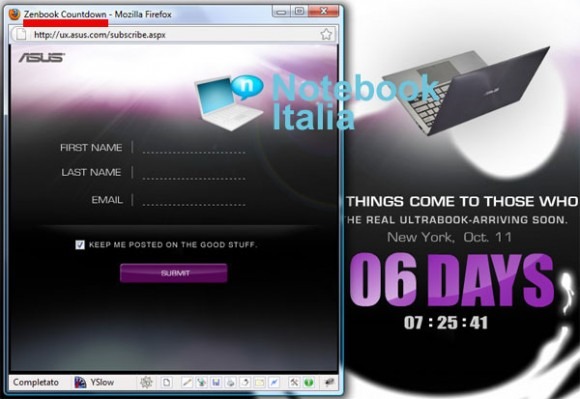 We have been talking about the Intel Ultrabooks that are heading to market for a while now. The machines will be offered from several computer makers including HP, Asus, and Acer. Initially Intel promised an under $1000 price and some of the Ultrabooks will come in under $1000. Those will be basic stripped models however. Most will sell for well for that $1000 tag.
Asus is going to be one of the big firms pushing the Ultrabook platform and the company is already counting down the days until the launch. The official unveil for the Ultrabook line from Asus is coming on October 11 in NYC. The countdown page with the sign up for more information on Asus Ultrabooks is also tipping the name that Asus will use to brand the machine.
The little popup window says Zenbook countdown on it hinting that Zenbook will be the name of the line at Asus. I think that Creative may have issue with that since the company uses the Zen name extensively. I smell another trademark infringement suit coming on.
[via Notebookitalia]