ASUS' ultra slim ZenBook UX305 now available for purchase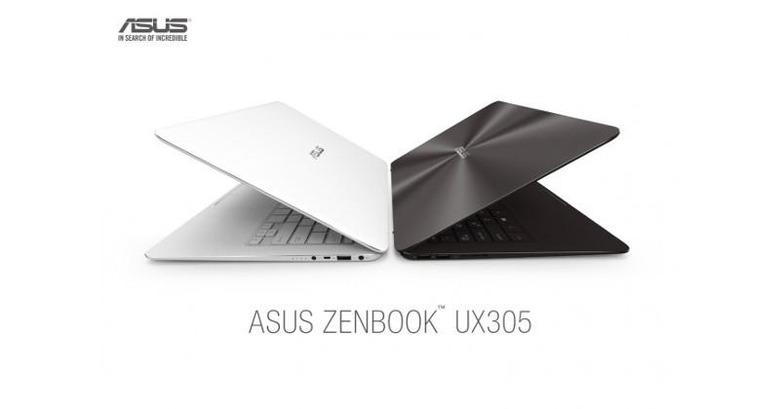 ASUS sometimes really takes its time before putting an already announced product to market. Sometimes, it's almost a miracle if it does, like some of its more interesting devices. But for those who were taken by the ZenBook UX305 last IFA 2014, you're in luck because ASUS has finally launched the ultrabook in the US market. And this time, the 13-inch laptop with a QHD screen has a lot more details to share and a price tag to go along with it.
The main call of the ASUS ZenBook UX305 is its design. Sporting a slim profile of only 0.48 inches (12.2 mm), ASUS claims it is the thinnest ultraportable laptop of its size. The weight isn't bad either, at only 1.2 kg/2.6 lbs. The laptop comes in an obsidian stone hue that sports ASUS' spun brushed metal pattern that is particular to its ZenBook series.
The UX305, however, sends quite mixed signals beyond its looks. While it looks quite classy outside, inside is a curious mess. ASUS flaunts the 13.3-inch QHD+ 3200x1800 multi-touch screen, but that is not the default configuration. Unless you specify otherwise, the laptop will come with a Full HD display only. You won't find any high performance Intel Core processor inside, either. Instead, you will have the mobile version, the Core M-5Y10 to be exact, a dual-core processor that runs from 800 MHz to 2.0 GHz max. It is a BrowaIt can, however, support up to 8 GB of DDR3 RAM, so you might not be wanting in memory. It also comes with a 256 GB SSD for storage.
As for other specs, it has a 720p web cam, your usual set of WiFi, Ethernet, and Bluetooth connectivity, a Micro HDMI port, 3 USB 3.0 slots, and an SD card reader. One highlight here is the audio system. Aside from ASUS' usual SonicMaster tech, the laptop also boasts of ICEpower technology coming from acclaimed audio accessory makers Bang & Olufsen.
The Full HD model of the ASUS ZenBook UX305 is now available for purchase in the US, with a price tag of $699. The QHD+ with multi-touch option will come later, but ASUS has not yet disclosed when or for how much.
SOURCE: ASUS