ASUS U50VG, K50AB, K50IJ and K70AB notebooks arrive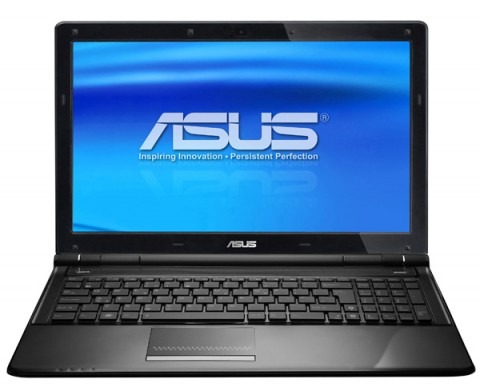 ASUS have announced a number of new notebooks, including both Intel and AMD powered machines and with screen sizes ranging from 15.6- to 17.3-inches.  Of the new models, perhaps the most interesting is this, the U50VG-XX060C, a 15-6-inch Intel Core 2 Duo T6500 2.1GHz machine with 4GB of RAM and NVIDIA GeForce G 105M 512MB graphics.
The U50VG has a 250GB hard-drive, 16:9 aspect display running at 1366 x 768, and an HDMI port, together with a 1.3-megapixel webcam and WiFi b/g/n.  The chiclet-style keyboard is backlit, and it's set to land in Italy priced at €943.20 including tax ($1,320).
Meanwhile the similarly 15.6-inch K50-series gets a few new models, in the shape of the AMD Turion 64X2 Ultra ZM-84 2.3GHz K50AB and the Intel Pentium dual-core T4200 2GHz K50IJ.  Both have 4GB of RAM, while the former has ATI Mobility Radeon HD4570 512MB graphics and the latter uses Intel GMA X4500HD graphics with shared memory.  The K50AB is €793.20 ($1,110) while the K50IJ is €628.80 ($880), both inclusive of tax.
The final new 15.6-inch model is the ASUS F52Q-SX071E, another Pentium dual-core machine (the 2GHz T3200) this time with 2GB of RAM and the GL40 chipset.  Intended as a business model, it comes with Vista but can be downgraded to Windows XP, and is priced at €643.20 ($898).
Finally, ASUS have two 17.3-inch models in the shape of the AMD-powered K70AB-TY002C and K70AB-TY001C.  The former uses an AMD Turion 64X2 RM 74 2.2GHz processor, while the latter steps up to an AMD Turion 64X2 Ultra ZM-84 running at 2.3GHz; both machines have 4GB of DDR2 RAM and an ATI Mobility Radeon HD4570 with 512MB of memory driving a 1,600 x 900 LED-backlit display.  The two notebooks will go on sale for €793.20 ($1,107) and €868.80 ($1,215) respectively.
[via Notebook Italia]