ASUS U and UX ultraportable specifications confirmed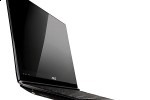 ASUS have released full specifications for their new U- and UX-series ultraportables, announced back at CeBIT.  Five U-series models are detailed, together with two UX-series; processors range from Intel's CULV line, Pentiums, Core 2 Solo and Core 2 Duo chips.  Displays range from the 12.1-inch U20A through to two 15.6-inch models, the U50G and U51Vg.
Each can be outfitted with up to 4GB of DDR2 memory, with hard-drive choice for most models being 250, 320 or 500GB 2.5-inch SATA drives.  Bluetooth 2.1+EDR and WiFi a/b/g/n is also present across the board, and the displays are all LED backlit.  Several of the models also have integrated optical drives.
Graphics range from Intel's GMA 4500MHD chipset through to the NVIDIA GeForce G 105M and ATI Mobility Radeon HD4570.  Full specifications of all five notebooks, including which versions of Vista they can be bought with, are in the gallery below.  ASUS have not announced release dates nor pricing for the U- or UX-series.
Press Release:
The New ASUS U Series: Immaculate Design Meets Undeniable Performance

A Harmonious Balance between Form and Function Inspired by Nature that is Certain to Set Hearts Aflutter

The latest U Series notebooks from ASUS have finally answered the question "form or function?" with the answer, "Why not both?" While most thin and lightweight notebooks face the problem of scaled back functionality, the new U Series from ASUS—whose design was inspired by one of nature's thinnest, most aesthetically pleasing and most graceful creations, the butterfly—promises an exquisitely crafted, thin and lightweight notebook that takes away nothing in terms of functionality. Its side profile resembles the wings of a butterfly in flight, and combined with its coherent design, the result is a series of notebooks that are so much more than just gadgets. They are exquisitely designed accessories for the style conscious professional, those who seek to assert their own individuality and appreciate the finer details in life.

Designed to Perform

Unlike many portable, thin and lightweight notebooks today, the new U Series from ASUS has given nothing away in terms of functionality. Its size and ultra-light profile belie a power that is as unexpected as it is necessary in today's tech-savvy world. The Intel® ULV processors and Core™2 Duo processors pack a power efficient punch. Promising better overall performance, this next generation processor offers power-optimized mobile processing, enhanced to handle today's demanding software applications.

For multimedia aficionados, the U Series also offers crisp and vibrant images with its energy efficient 16:9 LED-backlit display, powered by a NVIDIA® GeForce® G 105M which offers spectacular graphics, stunning clarity and effortless mobility.

Of course, what is vision without the appropriate sound to complement it? The U Series is equipped with Altec Lansing speakers featuring SRS Premium Sound™ for exceptional audio reproduction akin to a home theater system.

To top it all off, the U/UX series also incorporates Express Gate which allows users access to a host of commonly used applications such as instant messaging clients and a multimedia manager, as well as the Internet in just 8 seconds*.

Designed to Delight

Every level of the U Series' design, from the thin and light profile to minor touches such as the shimmering glitters on the LCD lid, reflect ASUS' attention to detail. In all its form and functionality, the user has not been forgotten, as the series also incorporates a host of user-centric touches. The U Series is equipped with AI Light sensor technology which adjusts the brightness of the screen, as well as the backlighting of both the illuminated keyboard and interactive touchpad**, to ensure visual comfort and ease of use.