ASUS TV Monitor T1 Series hybrid displays

ASUS have announced a new range of LCD TV/monitor hybrids, the TV Monitor T1 Series.  Available in 22-, 24- and 27-inch versions, the T1 Series displays all offer 1920 x 1080 resolution for Full HD 1080p playback, and include dual HDMI inputs and both digital (DVB-T) and analog (PAL/SECAM) TV reception.
There are also two SCART sockets, D-Sub, Composite, Component, S-Video and a CI slot, together with audio-in, S/PDIF, separate audio-out and headphone sockets, and an antenna socket.  The T1's onboard speakers are hidden behind the unusually-patterned mesh at the front, and each offer 7W; meanwhile brightness is 300 cd/m2, while contrast is finagled up to an artificial 20,000:1.
Unfortunately the one feature we'd really pay for - picture-in-picture with a small TV window and the rest of the display used for computer workspace - doesn't seem to be present.  No word on pricing or availability.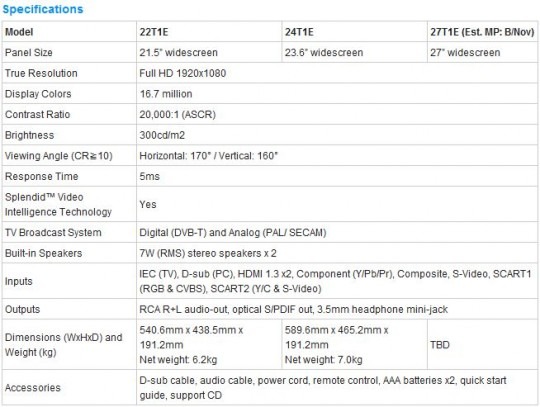 Press Release:
ASUS TV Monitor T1 Series: Double Entertainment, One Screen

Taipei, Taiwan, July 13, 2009 – ASUS today unveiled the TV Monitor T1 Series that combines the best in desktop monitor and LCD TV technology to deliver HD TV broadcasting and Full HD Blu-ray Disc playback for the ultimate entertainment and work experience. Featuring inbuilt TV tuners, these large screen monitors—available in 22", 24" and 27" sizes—allow users to watch digital (DVB-T) and analog (PAL/SECAM) channels and enjoy all common TV functions in Europe. The T1 Series also boasts surround sound with a pair of 7-Watt speakers, a rich complement of I/O ports catering to various connectivity needs and ASUS' exclusive Splendid™ Video Intelligence Technology for spectacular color reproduction.

Made for Every Aspect of Your Life

At Home: Full HD Entertainment Experience with Seamless Connectivity

The T1 Series is equipped with an integrated TV tuner that receives both digital (DVB-T) and analog (PAL/SECAM) signals. It supports all common TV functions, delivering a complete HD TV watching experience.

The T1 Series supports Full HD 1080p (1920x1080) and sports a pair of HDMI inputs, enabling the delivery of the highest quality content from Blu-ray Disc players through a single cable. Its wealth of I/O ports, including HDMIx2, SCARTx2, D-Sub, Composite, Component, S-Video, audio-in jack, S/PDIF out, audio out, earphone out and CI slot enable simultaneous connections to myriad video playback devices such as DVD players and set-top boxes.

In addition, the T1 Series features ASUS Smart Contrast Ratio (ASCR) technology that bumps up the display's contrast ratio to an astounding 20000:1 for crisper, more realistic pictures during gameplay or movie viewing.

The TV Monitor TV T1 also comes with an intelligent remote control that enables users to adjust settings conveniently and easily.

At Play: Experience Blockbuster Games the Way They Were Meant to be Enjoyed

The T1 Series' dual 7W stereo speakers, concealed deftly behind an attractive speaker mesh, are fully capable of delivering cinematic virtual surround sound. Users can further customize the audio to suit their prevailing entertainment scenarios by selecting one of four sound presets. The Vocal, Rock, Soft and Boom modes are tailored for speech-heavy content, rock music, soft music and action games respectively. With HDMI inputs and component ports, users will enjoy convenient connectivity to various game consoles.

Additionally, Splendid Game Mode boosts the brightness and contrast of dim, hard-to-see areas while leaving well-lit areas untouched, enabling users to see enemies lurking in dark corners.

At Work: Generous Screen Real Estate and Comfortable Document Viewing

The T1 Series boost users' productivity with a large 16:9 widescreen aspect ratio, offering a perfect solution for web browsing, e-mail composing, document editing and creative work. Splendid Standard Mode also ensures that every detail in graphics, documents and websites is captured crisply and in optimized color—greatly enhancing comfort during viewing.

Inspired Design for Inspirational Home Living

The T1 Series is designed not just to complement, but enhance, the interiors of today's contemporary homes. Defined by sensuous curves and embellished with chic gold accents, an intricate floral-patterned speaker mesh and a gorgeous high gloss stand, the T1 Series is more akin to a piece of modern furniture than an electronic device.

Advanced Technologies for Exceptional Visual Performance

The T1 Series' stunning visual performance—regardless of video source—is comparable to a large-sized living room television, thanks to features such as a 2D/3D comb-filter, noise reduction, 3D de-interlace, 2:2/3:2 pull down and the exclusive Splendid™ Video Intelligence Technology and tint adjustment. Splendid™ Video Intelligence Technology adjusts the displays' parameters to ensure optimized colors with the four preset modes (Scenery, Night View, Game and Standard).