ASUS Transformer AiO is 18.4-inch docking Win8/Android tablet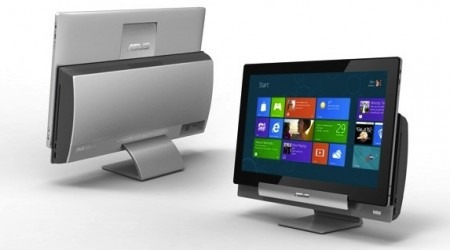 ASUS' Computex 2012 line-up isn't all notebooks and tablets: there's also the ASUS Transformer AiO, a dual-booting Android and Windows 8 all-in-one desktop. A vast, dockable 18.4-inch touchscreen – considerably larger than the maximum 14-inches of the Transformer Book line – the Transformer AiO has a removable screen section that can drop into a base station for desk use.
The screen itself is an LED-backlit panel with 10-point multitouch support; ASUS hasn't said what resolution it's running at. A button press flicks it into Android mode from the main Windows 8 OS.
From the sound of things, this isn't the sort of tablet you could pull out and take out of the house with you (even if you had a sufficiently capacious bag). The screen section instead apparently works as some sort of wireless display for Windows 8, meaning you'll likely need to be within a certain range of the base station.
The exact technical details on that haven't been shared, and nor do we know what's inside the base station itself; our guess would be something from Intel's 3rd Gen Core range, however. You get an optical drive, too, and more ports like USB.
As ideas go it's a distinctive one, certainly, but we're not entirely sure whether most users are keen to pull off their PC screen and drag it to the coffee table rather than use a proper tablet or notebook.