Asus Transformer 3 Pro 2-In-1 PC Packs Core I7 And 1TB SSD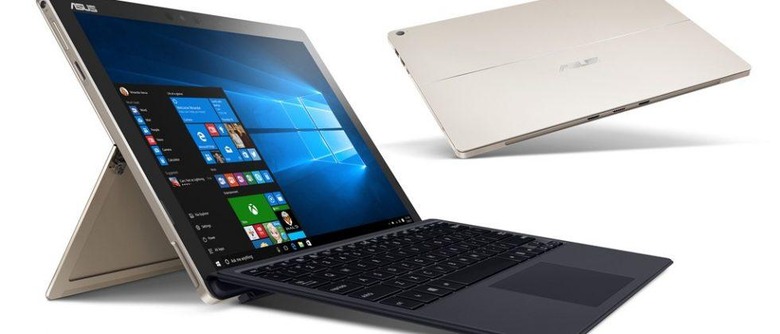 Asus has rolled out some new Transformer notebook computers at Computex starting with the Transformer 3 Pro 2-in-1 notebook computer. This little PC looks a lot like a Microsoft Surface 4 Pro, but has more storage space and RAM packed inside. Despite being 9.35mm thick, the machine has a Core i7 processor, 1TB PCIe SSD, and 16 GB of RAM.
The display is a 12.6-inch 2880 x 1920 resolution unit with 275ppi. That display covers 121% of the sRGB color space and the machine has dual front speakers. Asus also fixes the Transformer Pro 3 up nice for connectivity with a USB Type-C, a Thunderbolt 3 port and HDMI output. The rear camera is a 13MP unit and a front camera supports Windows Hello facial recognition.
The Asus Transformer 3 is another 2-in-1 computers sitting right down range of the Pro version. This one is thinner at 6.9mm and has a 12.6-inch screen with 2880 x 1920 resolution and 450 cd/m2 brightness. It has four internal Harmon Kardon speakers and runs 7th generation Core i7 processors. Storage is up to 512GB SSD and the machine can be fitted with up to 8GB of RAM. It is also fitted with a USB Type C port and Thunderbolt 3 port. A 13MP rear camera is built-in.
The last of the new Transformer products is the Transformer Mini hailed as the lightest 2-in-1 PC in all the land thanks to a magnesium alloy design. It tips the scales at 790g with the keyboard attached and 530g without it. Transformer Mini is 8.2mm thick and has a 10.1-inch screen and Asus promises up to 11 hours of battery life per charge. Asus gives no hardware detail on this machine, but it does have Windows Hello support, WiFi, and comes in several colors.
UPDATE: The price of Transformer 3 Pro will be starting from 999 USD, while the Transformer 3 will be priced from 799 USD