ASUS Sabertooth X79 motherboard rundown
It's been revealed by ASUS that their next big platform will be what you see before you here, the Sabertooth X79, seen here in its nude motherboard state. Inside you'll find the upcoming Intel X79 chipset sitting nicely in this TUF series motherboard, the whole thing made to be reliable and a "long term investment" by the folks as ASUS. Military grade hardware for the elements and power galore – let's have a look at what we've got going here.
The images you see in this post come from Matt Black at Tech in Style, photographed aside information on the tablet we're also presenting to you here. What you see here is a Thermal Armour sitting near the heatsink and rear I/O area, while two fans keep the whole situation cool – you'll just see one in this setup, the other optional for the rear I/O. So your CPU DIGI+ Power Control VRMs and chipset will be chilling while your I/O is connected via a set of fins to your CPU digital VRMs – push that heat out!
DIGI+ VRMs hardware has been extended to feed DIMM slots as well as CPU, this for more precise power provisioning for this very dense system. In addition to the Thermal Armour, there's Thermal Radar, this feature monitoring several boards to make sure proper airflow is being distributed to areas where overheating would otherwise occur. New fan control software via Fan Xpert+ and seven 4-pin fan headers allow you to control your cooling like never before, custom speed gradients for different temperatures no problem now.
This system's Dual Intelligent Processors 3 has a brand new and revised TPU that is able to house BIOS Flashback. As Black notes: "all you have to do is drop the UEFI BIOS  file onto a FAT32 formatted USB drive, then plug it into the white USB slot on the rear I/O and press the button next to it. When the button stops flashing you're fully updated." This ability works without the need for CPU or memory installed, just requiring the ATX power plug – and that's it.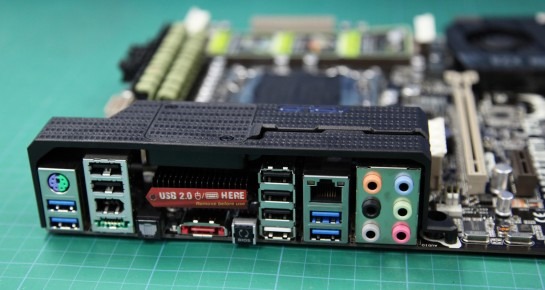 Then there's the good stuff: 3-way Nvidia SLI and AMD CrossFire-X are supported alongside up to 64GB of DDR3 memory fit into the 8 DIMM slots onboard. You've got 8 SATA ports (4x 6Gbps, 4x 3Gbps), four USB 3.0 ports on the back, 2 USB 3.0 ports on the front, two eSATA, PS2 keyboard or mouse, Firewire, 8-channel HD audio with S/PDIF out, and Intel Gigabit Ethernet.
Power on the horizon!
[via TechInStyle]