ASUS ROG Zephyrus M uses expanding case for full-power GPU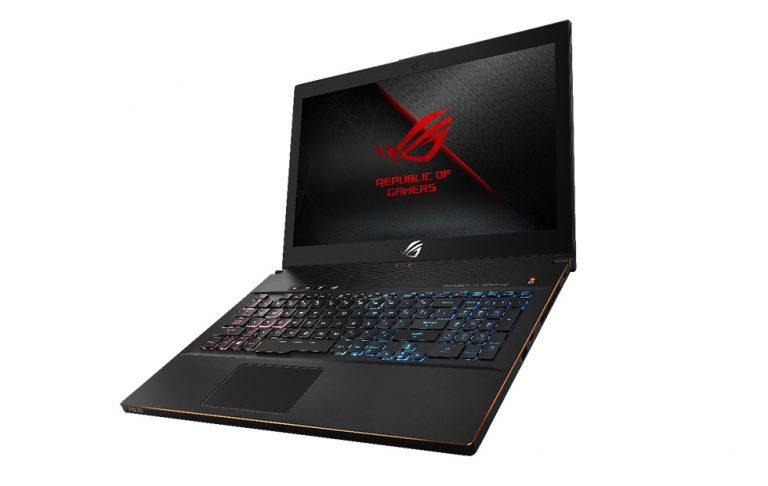 ASUS Republic of Gamers is back with a new gaming laptop, the ultraportable Zephyrus M GM501. This model has a slim design with a unique element you won't find in competing models: a hinge that separates a bottom chamber, opening a large gap through which air can pass. This design enables the laptop to retain a slim size while keeping temperatures down, a vitally important aspect of any gaming system.
ASUS clearly put a lot of thought into its latest gaming laptop, one it has designed to function as an everyday work laptop, too. That is made possible via a setting that enables the user to user to switch between the NVIDIA GeForce GTX 1070 graphics card while gaming and the integrated graphics during work. This is the first ever "switchable GPU" setup, according to ASUS, which says using the integrated graphics boosts the usage time up to 6 hours.
As well, switching back to the more powerful graphics mode triggers the system to match the display refresh rate to the discrete GPU frame rate, resulting in a smoother and tear-free experience. When the more powerful mode is engaged, the Zephyrus M benefits from the unique hinge design demonstrated in the video above.
When the lid is lifted, a section of the lower chassis flexes open a total of 9mm. That opening improves airflow, offering 20-percent more space for air to circulate and increasing airflow by up to 32-percent. The overall effect is a drop in internal temperatures by up to 20-percent, helping keep the laptop cooler and dealing with fan noise.
ASUS implemented an Anti-Dust Cooling system designed to remove dirt and dust particles that could be pulled into the tunnels, otherwise causing them to clog. A pair of high-performance outlet fans circulate air through the fins, and there's a heat-pipe architecture for keeping the internal components, including the GPU and CPU, cooled down independently.
Other features include Aura Sync, a feature for customizing and syncing lighting effects with other supported peripherals like headsets and keyboards. Users can setup personalized color schemes, but also use presets for things like color cycles and CPU temp indicators. The Zephyrus M features an 8th-gen Intel Core i7 processor, NVIDIA GeForce GTX 1070 graphics, a 144Hz refresh rate, an Active Aerodynamic System, 1TB Seagate FireCuda SSHD, and a 256GB SSD.
ASUS is offering the model in three different configurations with a starting price of $1,499 USD.