ASUS ROG Phone pre-order: this is how much it will cost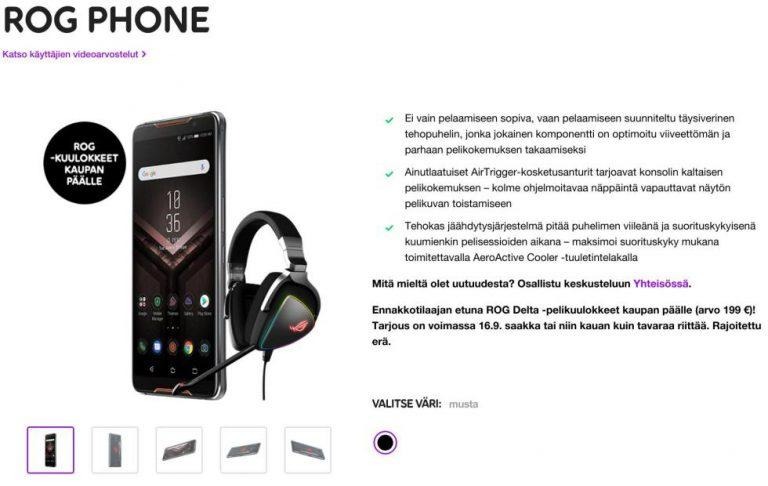 This year has seen some rather curious smartphones, like the OPPO Find X and Vivo NEX S. When it comes to curiosities, however, the ASUS ROG Phone probably takes the cake. No, it has no elevating camera but it does have an unorthodox design and a set of accessories that truly marks it as a gaming smartphone. ASUS has practically revealed all about it except its availability. Finnish carrier Telia, however, may have jumped the gun and revealed at least one critical piece of the puzzle, which probably shouldn't surprise anyone.
The ROG (Republic of Gaming) Phone is, after all, more than just a high-end flagship phone. Yes, it does sport the latest specs, like a Qualcomm Snapdragon 845, a 90 (not 120) Hz 6.8-inch FHD+ (not QHD+) AMOLED screen, 8 GB of RAM and 128 GB of storage, dual cameras, the works. But it also has features you won't find in other phones, gaming or otherwise.
There's the vapor cooling, for one, and the crazy LED lights that will be familiar to PC gamers. It also has a side USB-C port so cables won't get in the way when charging while playing. There are also "air triggers" that add two more "buttons" to a button-less gaming setup. And that doesn't yet include the accessories that will, of course, be sold separately.
It shouldn't be a surprise, then, that Telia (via Reddit) puts a 999 EUR price tag on the ASUS ROG Phone. We can pretty much expect the same triple digits in the US, if not more, which brings it into iPhone X territory. It unsurprisingly expensive but most of us will wish it were less.
Then again, Telia could have gotten its price wrong. But it seems to be confident enough to accept pre-orders for the ASUS ROG Phone before ASUS has even announced its availability. The device could come out in a month's time, so we won't have to wait long to find out.