ASUS ROG Crosshair IV Formula motherboard pairs AMD CPUs with dual-channel DDR3 2000MHz RAM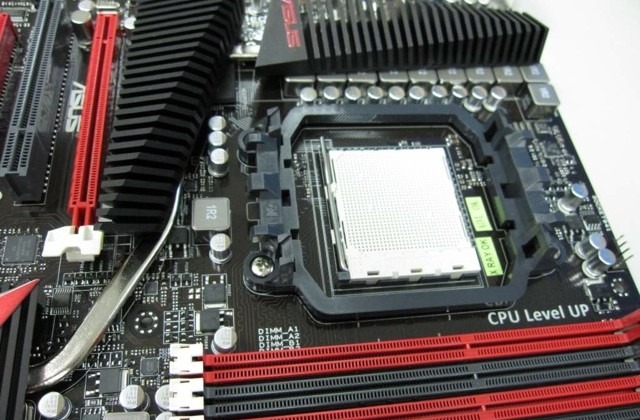 ASUS has been on a roll with its high-end motherboards lately, and the new Republic of Gamers Crosshair IV Formula doesn't look to break that pattern.  Designed for AMD's processors – including the new Phenom II X6 hexacores – the 'board is the first in the world to pair them with support for dual-channel DDR3 2,000MHz memory; there are also two USB 3.0 ports, six SATA 6GB/s and three SATA 3GB/s connectors.
AMD's reputation for making overclock-friendly chips should also get a boost, with the ROG Crosshair IV Formula having both ASUS' Core Unlocker – which activates any dormant cores in the CPU – and Turbo Key II for automatically ratcheting up the core frequency.  There's also GameFirst, which prioritises network traffic for online gaming and supposedly reduces lag.
Connectivity includes two FireWire, three PCIe 2.0 x16 slots supporting ATI CrossFireX, twelve USB 2.0 ports and support for HD audio thanks to integrated SupremeFX X-Fi.  No word on pricing or specific availability at this stage, however.
Press Release:
Powerful Features and Design Make The New ASUS ROG Crosshair IV Formula Irresistible to Gamers

The World's First Motherboard to Support Dual Channel DDR3 2000MHz on AMD Platforms

The brand new Crosshair IV Formula from ASUS Republic of Gamers, or ROG, ups the ante for everyone with an interest in gaming. Hardcore hobbyists stand to benefit from a wealth of indulgent performance upgrades to better their odds of domination, while mainstream gamers can expect a new look on what makes the pastime so thrilling.

Core principles behind the conception of the Crosshair IV Formula include meticulous attention to detail and listening to community feedback. With an eye-catching design, the Crosshair IV Formula boasts ROG Connect for instant tweaking and monitoring of gaming rigs, a user-friendly overclocking interface Turbo Key II and proprietary ASUS technologies Core Unlocker and GameFirst. All these guarantee tremendous success with top-line gaming PCs, as the new board offers exhilarating foundations to build upon.

Those bent on ruling the game have just found the new motherboard to beat—resistance is futile.

All Aboard the Gaming Express

The Crosshair IV Formula deploys the latest chipset architecture from AMD, opening up the most current performance CPUs on the market. Enabling processors to come into their own is exactly what a good motherboard does, and the new Crosshair achieves this in several ways—not least ROG Connect, a built-in overclocking engine that maximizes benchmark scores by tuning and monitoring from a remote PC via USB, like a notebook. This way users can overclock while benchmarking, so all resources remain available to better performance. ROG Connect also serves as an in-depth monitoring tool—gearheads can easily obtain readings to see the effects mods such as overvolting have on their system.

Numerous performance features

Unlock CPU Potential

ASUS and Republic of Gamers are proud to announce Core Unlocker, an exclusive technology praised by worldwide media, to inject great value and performance into gaming setups. It's well known many CPUs come with multiple cores deactivated during fabrication, and Core Unlocker brings those back to life. Users simply have to press one button on the board and the AMD CPU placed in the socket goes through a physical scan in search of dormant cores. Dual core CPUs can become triples or quads in minutes, with obvious computing horsepower benefits.

Naturally, the more cores available the bigger the overclocking threshold—gamers everywhere rejoice.

Turbocharged Performance

Speaking of thresholds, the Crosshair IV Formula comes with the latest version of Turbo Key II, an auto-tuning routine that lets users engage, sit back, reap the benefits then rule their game with untold confidence.

Turbo Key II runs extensive overclocking automatically, detecting hardware tolerances and testing them to ensure stability. The excellent thermal design of the new Crosshair IV Formula means there's quite a lot of envelope pushing to be done safely, guaranteeing impressive gains. Once more, all users need to do is press the O.C button on the board and let the technology take it from there.

Game with the Flow

Multiplayer has become the norm, and gamers demand smooth connections to deliver uninterrupted action. The reality, however, is that many still don't enjoy optimized broadband, which is why ASUS has conjured GameFirst. This smart solution works with the board's networking pipeline to prioritize bandwidth, eliminate lag and lower latency.

GameFirst sets priorities straight

Gaming applications get top access to resources on the hardware level—so online play becomes faster, more fluid and infinitely less frustrating. At the same time, other applications can work in the background without draining speed from mission critical needs.

GameFirst and ROG Connect up close

Grounded in Ability

Storage comes in the form of six SATA 6GB/s and three SATA 3GB/s, ample room for growth and saving all the newest and biggest game titles. Also, the Crosshair IV Formula includes two USB 3.0 ports, which are much faster than USB 2.0 in every way. There's also HD audio from integrated SupremeFX X-Fi, fully EAX 4.0 compliant and ready to make those intense engagements roar with clear surround sound.

Thoughtful, relevant features that promote fun and satisfying gaming—look no further than the new Crosshair IV Formula from ROG.

Specifications

Model

ROG Crosshair IV Formula

CPU

AMD socket AM3 Phenom™ II /Athlon™ X4 /Athlon™ X3 /Athlon™ X2 processors

Chipset

Latest AMD chipset

System bus

Up to 5200 MT/s HyperTransport™ 3.0

Memory

4 x DIMM, dual channel, up to 16GB

DDR3 1866 (OC)/1600(OC)/1333/1066MHz

Expansion

3 x PCIe 2.0 x16 slots (@ dual x16, triple @ x16, x8, x8) with ATI CrossFireX™ technology

1 x PCIe 2.0 x4

2 x PCI 2.2

Storage

6 x SATA 6Gb/s with RAID 0, 1, 5, 10

1 x SATA 3Gb/s

1 x eSATA 3Gb/s

LAN

Marvell Gigabit LAN

Audio

SupremeFX X-Fi 8-channel audio built-in with EAX 4.0 support

USB/ IEEE1394a

2 x USB 3.0, 12 x USB 2.0 (7 at back I/O, 5 onboard)

2 x 1394a ports (1 at back I/O, 1 onboard)

Software

Kaspersky antivirus 1 year license

Features

ROG Connect, GameFirst, Core Unlocker, Turbo Key II, MemOK!, CPU Level Up, SupremeFX X-Fi built-in , Extreme Tweaker, iROG, Loadline Calibration, Voltiminder LED

Form Factor

ATX, 12" x 9.6" (30.5cm x 24.4cm)

Specifications are subject to change without prior notice. Please visit www.asus.com for more details.

###

About ASUS

ASUS is a leading company in the new digital era, with a broad product portfolio that includes notebooks, netbooks, motherboards, graphics cards, displays, desktop PCs, servers, wireless solutions, mobile phones and networking devices. Driven by innovation and committed to quality, ASUS designs and manufactures products that perfectly meet the needs of today's home and office users. ASUS won 3,268 awards in 2009, and is widely credited with revolutionizing the PC industry with the Eee PC™. With a global staff of more than 10,000 and a world-class R&D design team, the company's revenue for 2009 was US$7.5 billion. ASUS ranks among BusinessWeek's InfoTech 100, and has been on the listing for 12 consecutive years.