ASUS Rampage III Extreme motherboard gets official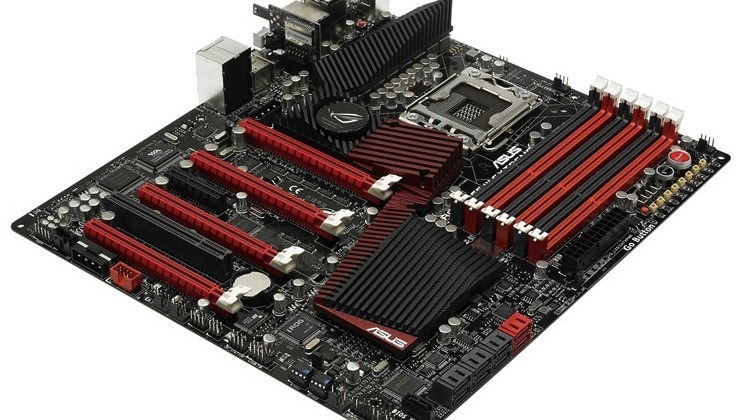 If the early preview shots of ASUS' Rampage III Extreme motherboard got your juices flowing, then the full information about the Intel X58-based 'board should be enough to knock you off your feet.  The Rampage III Extreme is the latest in ASUS' Republic of Gamers range, and supports the newest hexacore Intel Core i7 CPUs – such as the Core i7-980X Extreme – along with straightforward overclocking, NVIDIA 3-way SLI and ATI CrossFireX support, and a pair of USB 3.0 ports.
ASUS' new overclocking system means you can actually control the speed of the system from a nearby Bluetooth phone.  Alternatively you can backup or move BIOS overclock settings on a USB stick.  Meanwhile their Extreme Engine Digi+ system improves heat dissipation by 30-percent over traditional MOSFET, while conductivity has gone up by 40-percent.
There are also dual 8-pin power connectors and two 4-pin Molex plugs for powering the CPU and GPU with room to spare, while other connectors include nine USB 2.0, four PCIe2.0 x16 slots, seven SATA 3.0Gb/s, two SATA 6.0Gb/s, eSATA, gigabit ethernet, FireWire, six memory channels and more.  Full specs in the gallery below; the only thing we need to know now is pricing, though the ASUS Rampage III Extreme is unlikely to be cheap when it arrives in two weeks time.
Press Release:
ASUS Introduces the Rampage III Extreme Motherboard
Drive your System Beyond the Limit

ASUS Republic of Gamers reveals the latest addition to their roster of performers, the world-record shattering Rampage III Extreme. Delivering Intel's X58/ICH10R chipset with support for the Intel® processors in the LGA1366 package up to six cores and a plethora of features demanded by intense users, this board is the only choice for PC speed demons.

Welcome to the Overclockers' Delight

Serious overclockers have been clamoring for this kind of monster board for years, and ASUS listened. With Rampage III Extreme (R3E) the company puts forth a record-setting piece of hardware replete with highlights that meet the needs of dye in the wool tuners—all clad in stylish Republic of Gamers attire and backed by indefatigable ASUS quality.

Remote tweaking becomes effortless thanks to built-in ROG Connect and RC Bluetooth, giving users the freedom to unchain true hardware potential. That's only part of the picture, since this board comes with a host of accoutrements, including the outlandish Extreme OC Kit overclocking tool, which takes the concept way beyond the norm. USB BIOS Flashback allows for easy instant flashing of the BIOS, all the better to drive the most spectacular results through multiple GPUs—up to four full graphics cards. R3E contains the latest iteration of Extreme Engine Digi+ voltage modulation technology for purer, more stable power. All these indicate ASUS' commitment to innovating and foreshadowing demand from users – the result is a motherboard that not only guarantees mind-blowing output, but also great, rewarding fun.

It's Got the Power

There can be no assurance of awesome performance without solid power management – something every overclocker worth their salt knows. Extreme Engine Digi+, included on the Rampage III Extreme, does just that. It melds all the advantages of analog and digital VRM design to cut on switching latency and improve overall fidelity in the board. Pulse width modulation (PWM) likewise gains in finesse for added board tolerance, paving the way for exploratory overclocking of the way-out-there variety. Heat dissipation is improved 30% over traditional MOSFET, while conductivity has gone up by 40%, both thanks to use of FET+ in construction. Not content with all this goodness, ASUS has taken comments from competitive overclockers to heart and included a newly-designed signal choke that handles up to a humongous 40 amperes.

This bedrock of power makes radical experimentation more than a possibility – it makes it desirable. And because ASUS believes in doing things fast and easy, the aforementioned USB BIOS Flashback is the easiest way to transport BIOS versions or simply flash them from machine to machine. All that's needed is a USB stick.

Target Benchmark

Few things are as feel-good rewarding as putting a new piece of hardware to the test, then basking in the glow of exhilarating scores. That's the mindset Rampage III Extreme captures, and it does so with superlative zeal. The OC Kit strikes a formidable pose as an interface to meet the strenuous requirements of even the techiest overclocker, with LN2 mode and a Q reset that addresses cold boot problems and enables fast operation even under very low temps during extreme overclocking. Dual 8-pin power connectors and two 4-pin Molex plugs furnish CPU and GPU with ample room, freeing power while preventing mishaps.

Thoughtful touches encourage inventive testing, the hallmark of true overclocking. For example, convenient PCIe X16 lane signal disabling—users can test each graphics card individually for optimized results. The road to benchmarking fame passes through the Republic of Gamers, and R3E is the ticket.

All Bases Belong to Rampage III Extreme

Drawing inspiration from everything that makes overclocking such a great pastime, R3E takes it to the next level. It's a dream come true, empowering the art of hardware tinkering like never before. With a thermal design revamped from the ground up, overclocking tools to keep a gearhead happy ad infinitum, gorgeous looks and performance that's frankly out of this world, the Rampage III Extreme is the only choice for those looking to make every MHz count.