ASUS R50a UMPC available for $1,399: still too expensive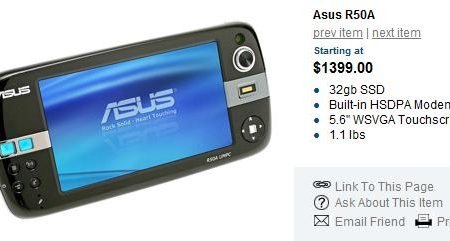 If the $1,839 price tag of the ASUS R50a UMPC was dissuading you from buying it – and we can't really say we blame you – then we've got good news.  Importer Dynamism have the 5.8-inch touchscreen device for $1,399: that gets you a 1.3GHz Intel Z520 processor, 1GB of RAM and a 32GB SSD for storage, together with WiFi b/g, Bluetooth 2.0+EDR, integrated GPS and an integrated 3.5G WWAN module.
Okay, so $1,400 is still a whole lot of money, but it's at least one Eee PC less than Informatic Center's price.  Included accessories amount to an external DVD burner, folding USB QWERTY keyboard, Bluetooth mouse, a screen protector, VGA output cable and a case.  They'll even throw in a headset.
The R50a has scored highly in reviews, with an impressive feature set and decent battery life considering all the wireless connectivity packed inside the 1.1lb case.  However even at this new, lower price, it's hard to justify over, say, a netbook paired with a smartphone.
[via Pocketables]