Asus Padfone packing Snapdragon MSM8960 S4 spied in GLBenchmark database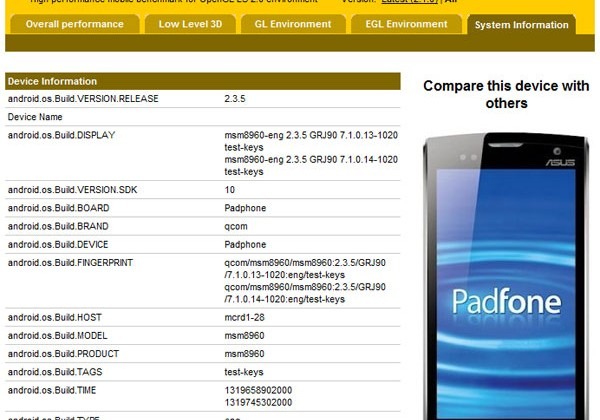 It seems that the folks that run around testing out unreleased handsets can't resist taunting those of us that don't get to see the devices until they launch. Often we catch little glimpses of the devices in spy photos and in benchmark databases as well. The GLBenchmark database has offered up some goods on a new version of the Asus Padfone. This little smartphone slips into the tablet dock we covered back in May.
The new device that has surfaced in the benchmarks is a Padfone that has a new processor inside. According to the benchmark page for the device, this version is packing in a Qualcomm Snapdragon MSM8060 processor. The reference in the benchmark database about the MSM8960 is thought to be the Snapdragon S4 platform.
If that is accurate, the Padfone will be one of the first smartphones to hit using the new Qualcomm platform. The benchmarks for the smartphone were said to be very good. It's not clear if the Padfone will slip right into the existing tablet sleeve to upgrade the tablet capability of the original or if it will need a new sleeve all its own.
[via Notebookitalia]