ASUS Padfone April release - stylus headset included [Hands-on]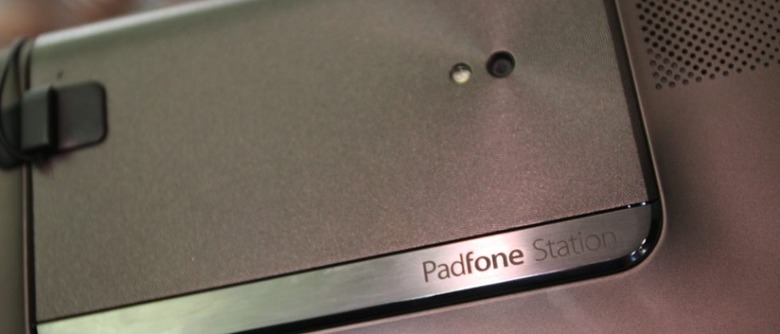 Here at Mobile World Congress 2012 at the ASUS Innovation press conference they are just starting to take the wraps of off what we can expect to see in 2012. Jumping right into the ASUS Padfone running Android 4.0 Ice Cream Sandwich and its 1.5 GHz Qualcomm S4 processor, with built-in 4G LTE. This is a phone, a tablet, and even has an included "headset stylus". Yes full stylus support that doubles as a headset. More info on the April date and more below.
ASUS kicked things off showing us everything we've been enjoying from them thus far. And now they are showing the next "transformation" with the ASUS Padfone. With the full specs being officially confirmed. The phone comes complete with the Qualcomm 1.5 GHz dual-core S4 processor and 4G LTE. Rocking a 4.3" qHD 960x540 AMOLED display, 1GB of RAM, 16GB internal storage with 8 megapixel rear and 1.3 front cameras. ASUS has added micro-HDMI along with the usual micro-sd port as well. Obviously it docks right into the tablet for 5x the battery life (no exact specs were given on battery). With Android 4.0 Ice Cream Sandwich on board too, all coming in April.
Following along with the cousins, the PadFone also docks into the Transformer Prime's universal docking station for an additional 9 hours of batter life. The term "Always on, always connected" has been widely used by ASUS. Since the phone docks into the tablet there is no syncing or cloud services needed. Instantly switch from phone portability to full work mode with the pad and start right where you left off. This is the next Transformation in the Transformer Pad.
As you'd expect, the tablet is merely a shell or skeleton and comes to life once you dock the phone inside. Everything seamlessly transfers over and you instantly can work or watch video right from where you left off. Now here is one of the more exciting parts of the event and the Padfone. Should a call come in while docked ASUS has not only added a stylus to the tablet, but said stylus doubles as a headset — yes a stylus headset. With volume up/down and end call functions you can leave the phone be and complete a call. Then once again continue right where you left off.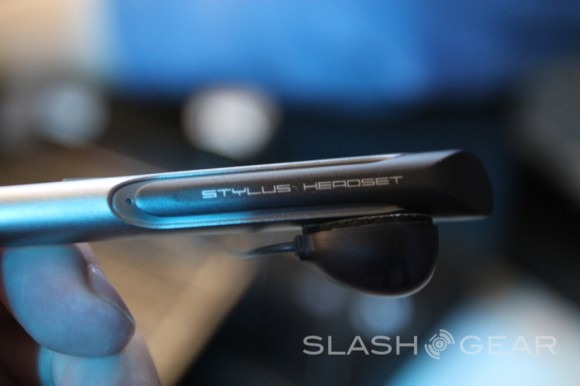 Sadly we weren't able to try the stylus headset ourselves but can't wait to get our hands on the LTE equipped version coming later in Q3 according to ASUS. Regarding feel of these devices I was pleasantly surprised. The actual phone is extremely lightweight, smooth and well designed. Top of the line quality just like previous devices from ASUS — and it's extremely lightweight. The actual tablet is surprisingly heavy considering it doesn't have the usual internals and I was a bit let down by the weight.
No official pricing or carriers were revealed but we should see the all-new Padfone early April and the LTE model will follow shortly. Enjoy the rest of the photos below.