ASUS P8Z77-V PREMIUM motherboard adds Thunderbolt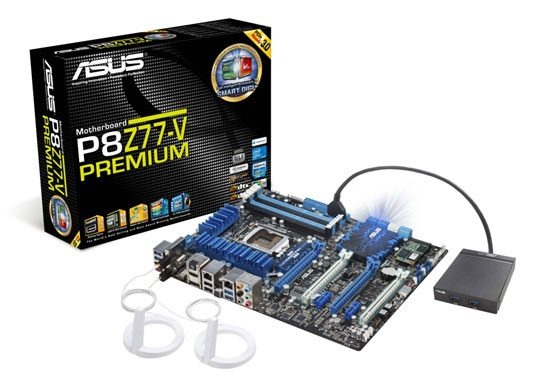 USB 3.0 has been trundling along quite nicely, but Thunderbolt has had a bit of a harder time finding a foothold in the market. The tech is only really used extensively on Apple's line of MacBooks and iMacs right now, and accessories have been slow to appear. Maybe some native support on motherboards will help move things along: ASUS has announced that the P8Z77-V PREMIUM will be the first motherboard certified by Intel to include Thunderbolt.
ASUS and Intel both worked closely on the new motherboard. Not only that, but ASUS partnered with several external hard drive manufacturers such as Elgato, LaCie, and and PROMISE to ensure compatibility with their Thunderbolt solutions under Windows. There's only one Thunderbolt port on the motherboard, but the ability to daisy chain multiple devices over a single connection mean there shouldn't be any issues.
Thunderbolt isn't the only tech that this new motherboard is packing: it sits near the top of ASUS' line, and looks mighty capable in its own right. Support for Ivy Bridge processors is on board, as well as overclocked DDR3 RAM at 2800Mhz. There are four PCI-e 3.0 sockets, two Gigabit Ethernet ports, dual-band WiFi b/g/n plus Bluetooth 4.0, six SATA 6Gbit/s ports, two eSATA 6Gbit/s ports, and six USB 3.0 ports. A 32GB mSATA SSD is also included to enable fast boot-up and resume times.