ASUS P8P67 WS Revolution quad-GPU motherboard outed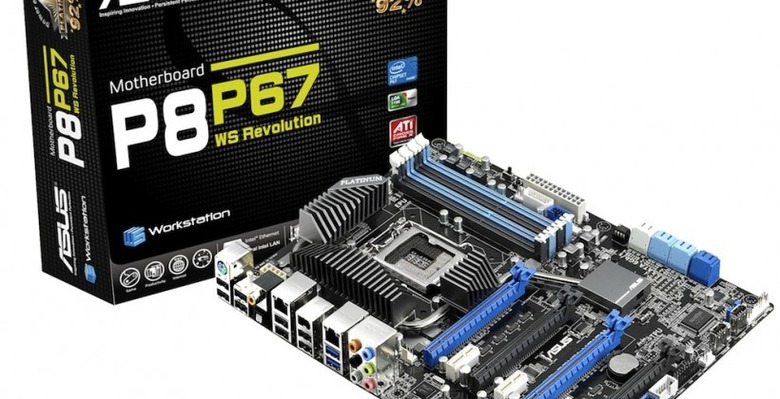 ASUS has outed its latest P67-based motherboard, the ASUS P8P67 WS Revolution, offering a full four graphics card slots for various combinations of NVIDIA GeForce SLI or AMD CrossFireX. Using AMD's system, in fact, the new ASUS 'board can handle four GPUs in PC Express X8 links.
That, ASUS reckons, makes it idea for workstation users, though we can imagine some heavy-duty gamers looking at the P8P67 and fancying a slice of its graphics performance. There's also dual gigabit ethernet (one of which is a hardware-accelerated Intel LAN port), four DDR3 2200 memory slots, four SATA 6GB/s ports and four SATA 3GB/s ports.
Other connectivity includes a pair of USB 3.0 ports, 14 USB 2.0, a pair of FireWire, digital S/PDIF audio out and 8-channel audio support. No word on pricing or availability at this stage.
Press Release:
ASUS P8P67 WS Revolution Offers the Best Graphics Performance among P67-based Motherboards

Dedicated workstation model combines extreme reliability, durability and energy efficiency, as demanded by professional users

The new ASUS P8P67 WS Revolution enables extreme graphics performance with multiple GPU arrangements that result in the most advanced visual performance of any P67-based motherboard. It delivers ASUS' 24X24 promise, which means it's a workstation motherboard designed for 24/7 operation with guaranteed complete reliability in even the most heavy-load professional applications. ASUS also guarantees this model's availability for a minimum of 24 months, hence "24X24". The P8P67 WS Revolution provides platinum-level 92% power efficiency, leading to perfect stability and 15% more cost-effective operation compared to other P67 boards. Hardware-accelerated Intel® LAN helps lower CPU utilization to optimize total performance.

Leading P67-based motherboards in graphics performance

Designed for true power users, the P8P67 WS Revolution uses a built-in NF200 controller that enhances bandwidth availability between the board and the four graphics card expansion slots. This is ideal for NVIDIA® GeForce SLITM and AMD® CrossFireXTM, as the new motherboard can easily handle 2-way SLI in dual PCI Express X16, while 3-way SLI works in dual PCI Express X8 and one X16 link. This translates into a 26.4% performance increase compared to regular P67 motherboards with similar SLI configurations, as measured by 3DMark06. For CrossFireX, the P8P67 WS Revolution supports up to quad GPUs in PCI Express X8 links, unlike standard motherboards, which lack the bandwidth to do so.

True to its workstation design, the P8P67 WS Revolution empowers commercial users with up to four NVIDIA® Quadro GPUs at once. These graphics accelerators focus on professional uses, including computer-aided design (CAD), computer-aided engineering (CAE), digital content creation (DCC) and geographic information systems (GIS). Having up to four Quadro GPUs on one board provides the flexibility and resources needed to run various professional applications.

Platinum-level 92% power efficiency

High quality materials and components include all Japan-made ultra long life solid state capacitors and very low resistance (Rds) MOSFETs. These go far beyond the standards employed by mainstream P67-based motherboards. As a result, users benefit from improved heat dissipation, lower capacitance (and thus greatly improved efficiency), optimized gate charge and extremely long component life cycles.

To further help achieve its 92% power efficiency, the P8P67 WS Revolution uses a two-layered inner board design made of copper, which applies more efficient materials. In addition, it includes ASUS' exclusive DIGI+ VRM digital power architecture and the embedded EPU energy-optimization microprocessor. DIGI+ VRM uses digital-to-digital power conversion and precision voltage adjustments to eliminate transfer loss and reduce emissions. With CPU loads between 30% and 100%, a power efficiency of 92% is maintained, helping users reduce their ultimate energy expenditure as well as achieving peerless stability and reliability. This also makes the P8P67 WS Revolution highly environmentally-friendly and a perfect proposition for enterprises who want to maintain green standards.

Dual Intel® Gigabit LAN for ultimate connected performance

Commercial users who wish to enhance their network reliability and throughput should look forward to the new P8P67 WS Revolution. It offers dual hardware-accelerated Intel® Gigabit LAN ports that can lower CPU utilization by as much as 71% compared to other motherboard brands, reducing packet loss and offering better support for diverse operating systems. Featuring teaming and fault-tolerance functions, these two augmented LAN ports provide double the bandwidth and network redundancy of standard Gigabit LAN.

Powering up computing with ample features

Just like all ASUS motherboards and products, the P8P67 WS Revolution gives users access to a wide range of innovations. It uses ASUS' proprietary EFI BIOS, an interface that replaces traditional BIOS controls with mouse input that's just as easy and intuitive as any modern operating system. AI Suite II is another ASUS exclusive, providing one-stop access to numerous utilities that cover performance, energy management, data security and much more. ASUS is also offering four SATA 6Gb/s ports with dual RAID to reinforce data connectivity and present users with a considerable performance upgrade from previous motherboard generations.