ASUS O!Play HD2 detailed; launches this week for £109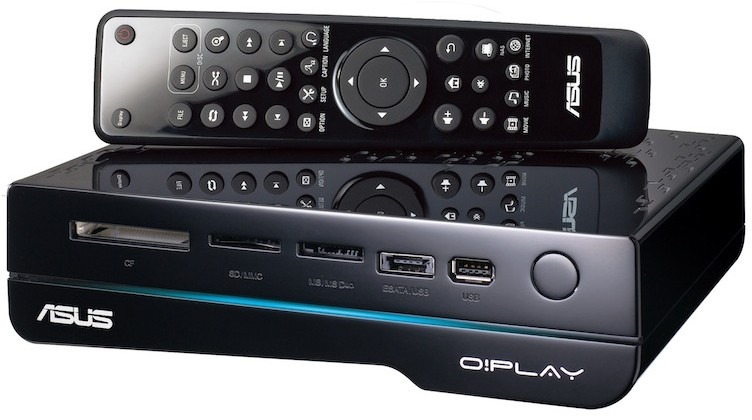 It's been a while since we've heard from ASUS about their USB 3.0 toting O!Play HD2 multimedia center, but now – with the launch tipped for this week – the company is being a little more forthright about the specifications.  Supporting USB 2.0 and eSATA external drives, the ASUS O!Play HD2 also has an internal 3.5-inch hard-drive bay and can be used as a regular USB 3.0 external HDD in its own right.
The full list of supported formats is in the table below, but highlights include MPEG 4, H.264 and RM/RMVB, as well as direct ISO support and Dolby Digital AC3/DTS Digital surround sound.  There are also various image and audio codecs, while outputs include composite, component, both optical and coaxial digital audio, and HDMI 1.3.
A memory card reader and 10/100 ethernet port – that allows you to use the HD2 as an iTunes/Samba/FTP server – round out what's looking to be one of the more interesting media players around right now.  The ASUS O!Play HD2 should be appearing in UK sales channels by the end of this week, priced at £109 ($172) with no internal drive fitted.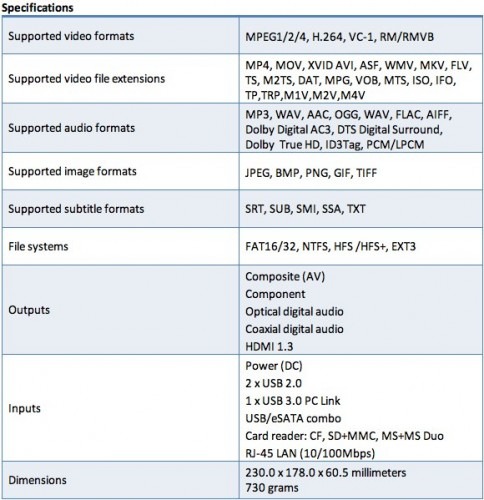 Press Release:
Connect to a Cosmos of Entertainment with ASUS O!Play HD2

World's First USB 3.0 Multimedia Centre Combines Enhanced Content Sharing with Greater Storage Flexibility

With the HD2 model, the O!Play range expands its multimedia functionality to cover even more ground, including the world's first media device with USB3.0 support to transfer high definition video and audio in ultra-fast speeds. The new device also features standard 3.5-inch hard drive compatibility, NAS support, iPhone® interconnectivity and DLNA compatibility for effortless access to online entertainment.

Better Sharing with USB 3.0, 3.5-inch Hard Drives and Network Attached Storage Support

O!Play HD2 features USB 3.0, which works up to ten times faster than USB 2.0, so even an entire HD movie only takes around 70 seconds to transfer.

O!Play HD2 expands the amount of content users can keep with support for 3.5-inch hard drives and an easy swap-and-store design so consumers can easily use O!Play HD2 as an external hard drive.

Complementing its mass storage capabilities, O!Play HD2 can be configured as a network attached storage (NAS) device for seamless network integration. It comes pre-setup with iTunes, Samba and standard FTP server functions. Users can manage their content and data quickly, all on one device. It even works as a jukebox, with on demand browsing of stored music files.

iPhone® Remote Control

Special enhancements make it possible to use an iPhone® as a remote control with O!Play HD2. This feature supports all major playback and content handling settings, extending O!Play HD2's range in addition to promoting greater device integration.

Rich Connected Entertainment

O!Play HD2 brings more online entertainment home. It delivers access to live streaming of over 20,000 radio stations, Picasa and Flickr, plus a wealth of infotainment, including weather and stock quotes.

Easy Home Networking with DLNA

DLNA, or Digital Living Network Alliance, offers a standardized format for handling content such as movies, photos and music across different devices. O!Play HD2 comes fully compatible as a DLNA client, helping users share content through networked devices. This makes media streaming throughout the home effortless.

Multiple Format Support and Upgradable Firmware

O!Play HD2 supports the most popular formats, including MPEG2 (AVI/VOB), MPEG4 (AVO/Xvid), M2TS (Blu-ray), MKV (H.264), rmvb and DVD functional navigation of ISO and IFO formats. It also supports Dolby TrueHD decoding and pass-through, taking full advantage of Blu-ray Disc quality to produce 100 percent lossless audio. O!Play HD2 lets users experience 7.1-channel audio output for theatre-like enjoyment.

ASUS offers constant online updates to O!Play firmware and drivers. As new standards emerge and existing ones are refined, O!Play devices receive prompt operational revisions.