Android TV, first announced properly at Google I/O this year, is set for release this Fall. Along with the Android "L" release, Android TV will take your living room and give it a very Android feel. The issue to-date is that we need some hardware; hardware we've not yet seen. A new ASUS device might just be your first Android TV set-top box.

Called the ASUS Nexus Player, the spec sheet are about what you'd expect for something that amounts to a streaming/conduit device. A 1.8GHZ Intel Quad-core processor stands next to a PowerVR G6430 Graphics card, and 1GB RAM front 6GB storage. It has WiFi, naturally, and will run "Android L".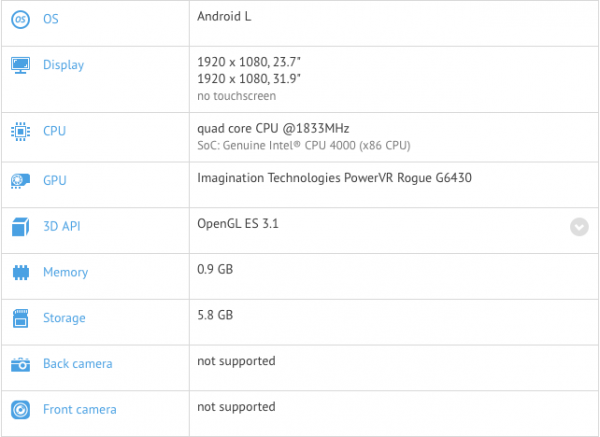 Two separate display sizes were mentioned, 24-inch and 32-inch. Both are 1080p, and likely serve as reference models for testing. The Nexus Player is likely a set-top box that plugs into any TV with an HDMI input (we assume as much, HDMI is pretty standard).
Along with ASUS, Razer also has an Android TV box in the works, but we've yet to see any specs or testing of that model. It's also not known if this Nexus Player is an official name, or some type of in-house code. If it is a Nexus device, we should expect to see it rolled out this fall along with a a new Nexus phone and tablet(s).
In addition to the set-top boxes, various manufacturers including Sharp, Sony, and Philips have pledged to cobble Android TV into new Smart TVs. Between Fire TV, Apple TV, Android TV, and traditional TV, everyone is angling to capture your attention while on the couch this Fall.
Source: GFX Bench
Via: Liliputing