ASUS M70 hailed as first desktop with NFC, offers Qi wireless charging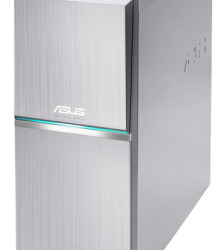 ASUS has unveiled what it says is the world's first NFC-equipped desktop PC, the ASUS M70, a shiny new tower system that has precious few details available at the moment. Among its features, as you might guess from the image, is Qi charging integrated into the top of the tower, allowing users to wirelessly charge their gadgets by setting them on top of the computer.
ASUS took the wraps off the PC over the weekend, but didn't provide much in the way of specifications, dropping only some general hardware info alongside a shot of the computer. It appears the case is made of shiny brushed aluminum, and there's a blue glowing accent light across the front beneath the ASUS logo.
Buyers will be able to grab the device with Intel's fourth-generation Core processors, with i3, i5, and i7 all be available options. Graphics come by way of NVIDIA GeForce, with up to GTX 650 being offered. Audio is ASUS's SonicMaster technology, and there's a Universal Storage Module hot-swappable drive bay. Rounding it all out, as mentioned, is the wireless charging tray.
The folks over at PC World scored a bit more info on top of this, saying that the desktop PC will feature ASUS's NFC Express software, allowing it to be used for things like logging in to Windows 8, backing up media from Android devices (with NFC functionality, of course), and to quick launch applications. They also report the M70 as featuring the Ai Charger software for utilizing USB 3.0 to charge devices at near-wall outlet rates.
SOURCE: Tom's Hardware