Asus launches Nvidia GeForce GTX Titan video card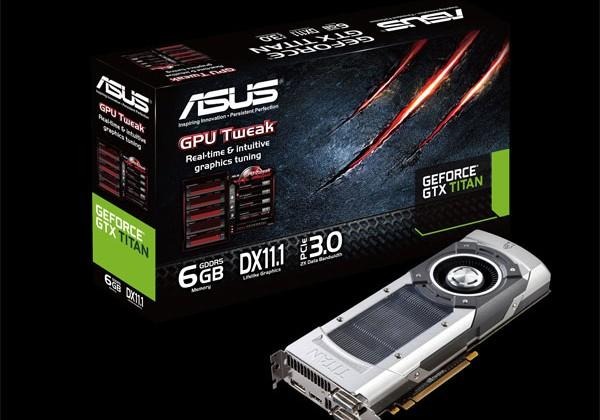 Nvidia made a big splash this week with the unveiling of its new, incredibly high-end, incredibly expensive GeForce GTX Titan graphics card. Despite the high cost of the Titan, gamers around the world have been salivating and many are ready to purchase. The good news if you have the funds to buy this new video card is that Asus has launched its branded version today in Europe.
The Asus GeForce GTX Titan is now available for $999. This is the most expensive video card aimed at computer gamers ever offered and should provide incredible performance for modern video games. The video card is optimized for DirectX 11.1 and PCI Express 3.0. Asus clocks the GPU at 876 MHz using the Nvidia GPU Boost 2.0 technology, the base clock is 837 MHz.
The Titan has 6 GB of GDDR5 video memory clocked at 6000 MHz. The Nvidia GPU Boost 2.0 interface will also allow owners of the Titan video card to change the clock speed, power consumption profile, and control the temperature of the GPU as they see fit. That means overclockers can tweak the GPU to get even higher levels of performance.
Titan has 2688 CUDA cores and features a 384-bit memory interface. Asus and Nvidia promised that the video card has the power to handle the most advanced games and features in resolutions above 2560 x 1600. Asus says that global release for its branded Titan will happen on February 25 and pricing can vary by location. The video card dimensions are 10.5-inches by 4.38-inches by 1.5-inches, so if you're going to order be sure the video card will fit in your computer case.
[via Asus]