ASUS G73 Stealth Fighter gaming laptop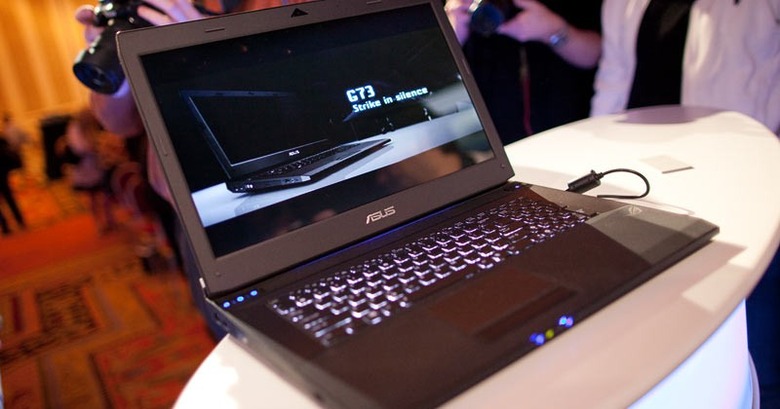 We're generally sceptical about laptops with design "inspired" by something else, but ASUS' G73 gaming laptop does at least make a good hack at channeling some of the Stealth Fighter elements it's apparently influenced by.  We stopped by to check out the mobile powerhouse at CES 2010; check out more live pictures after the cut.
Inside the matte-black finish casing there's an Intel Core i7 processor (which can be underclocked to extend battery life), ATI Mobility Radeon 5870 DX11 graphics (with 1GB of GDDR-5 memory) and 8GB of system memory.  The distinctive angled case allows ASUS to squeeze in a more effective cooling system, which sucks in cool air from the front and blows warm out the back, hopefully helping avoid roasting the user, and ASUS reckon the 5-degree keyboard angle also reduces wrist-strain.
Of course, it's the power that we're drawn in by, and the G73 clocks an impressive 7,260 in PCMark benchmarking.  There's also a backlit keyboard, full HD 1080p display, Blu-ray drive and 3D sound system, along with a subwoofer.  Unfortunately ASUS didn't reveal any pricing or availability information for the G73.