ASUS G51 Notebook For Gaming Revealed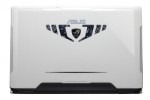 Need a new gaming notebook? ASUS might have just what you're looking for with their brand new G51. This notebook is actually very similar to the Alienware gaming notebooks in terms of style, but it has a few distinct tricks up its sleeve.
This notebook features a robot design that gamers are sure to love. Plus, it has the specs to back it up like the option of a 2GHz or 2.26GHz Core 2 Quad processor or a standard 2GHz or 3.06GHz Core 2 Duo processor.
The G51 has a 16:9 widescreen 15.6-inch LED backlit display, 4GB of RAM, a GeForce GTX 260M for graphics and up to a terabyte of hard drive space. You can also add on a Blu-ray drive, a 2-megapixel webcam and a backlit keyboard. We don't know how much the G51 will cost exactly, but pricing estimates fall between $1,300 and $1,500 with a release date coming sometime in July.