ASUS Eee Top range updated with AMD Fusion chips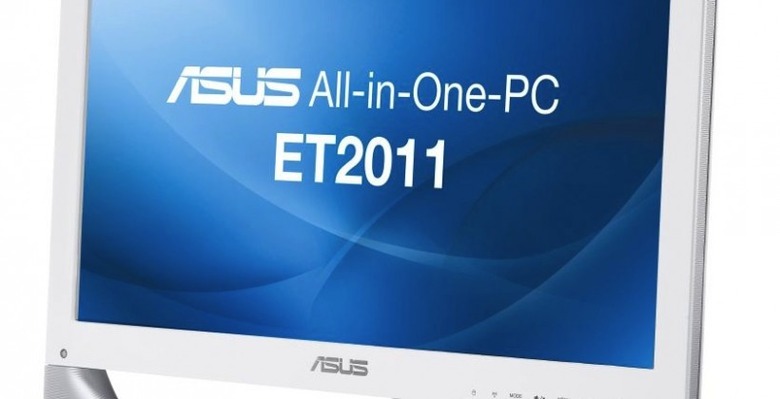 ASUS has outed its latest all-in-one PCs, the 15.6-inch Eee Top ET1611PUT based on Intel's Atom chips and the 20-inch Eee Top ET2011AUKB and ET2011AUTB based on AMD's Brazos APUs. What we're most pleased to see, however, is that the ET2011AUKB comes with a matte-finish display (the ET2011AUTB has a glossy display, albeit one that also responds to multitouch gestures).
Inside the Eee Top ET1611PUT is Intel's 1.8GHz single-core D425 processor, paired with GMA3150 graphics, 2GB of RAM and a 250GB hard-drive. There's a single-touch display, WiFi b/g/n, a 0.3-megapixel webcam and five USB 2.0 ports, along with gigabit ethernet and a pair of 2W speakers. It'll be available either with Windows 7 preloaded or OS-free, priced at €449 ($641) or €369 ($526) respectively.
As for the larger Eee Top ET2011AUKB and ET2011AUTB, they both have a 1.6GHz AMD Fusion Brazos E350 processor, 2GB of RAM, a 500GB 7,200rpm hard-drive and a 1.3-megapixel webcam. There's also a tray-loading DVD burner, WiFi b/g/n, twin 2W speakers and four USB 2.0 ports. The ET2011AUKB and ET2011AUTB will be priced at €539 ($769) and €589 ($840) respectively, each preloaded with Windows 7.
[via NetbookNews; Thanks Marco!]