Asus Eee roadmap leaked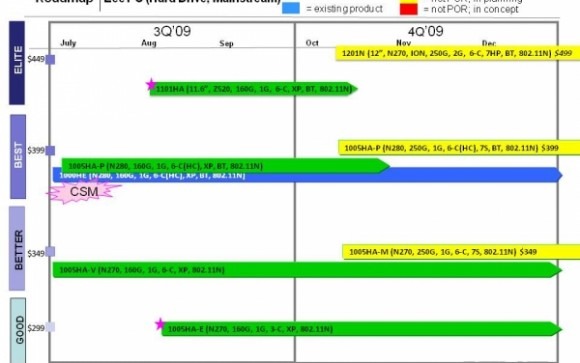 Asus was the father of the booming netbook market when it tossed its first 7-inch netbook onto the market in late 2007. Since that time the netbook has gone on to become one of the best selling categories in the entire computer market.
An industry insider has leaked Asus' Eee netbook roadmap onto the Internet. Asus has lot of new netbooks coming to the market and some models available now will be dying off soon. October will see the launch of a 12-inch NVIDIA Ion mini-notebook called the 1201N that will sport an Atom N270, 2GB of RAM, and 250GB of storage.
Asus will also ending the 1000HE's run, but the exact point at which it will vanish is unknown. The 1005HA-P is set for late October with Windows 7 and 10.5 hours of battery life promised. Asus' 1005HA-M will hit Europe with Windows 7 Starter and a matte LCD that is not offered on other 1005HA models. Asus will also unveil the 1008HA line with Atom N280 CPUs among other goodies at $430 to $480.
A multi-touch version of the T91 with 32GB of RAM is on the roadmap priced at $549, exactly when that model will launch is unknown. The roadmap has confirmed the end of the road for a couple Eee models including the 101HA set to die off in October and the 1008HA exiting in November.