ASUS Eee PC T91 launches, reviewed: interesting twist on netbook design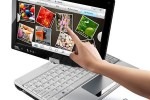 ASUS have officially launched the Eee PC T91 convertible touchscreen netbook, and already the first reviews are surfacing.  Based around an 8.9-inch display which can rotate flat onto the keyboard for slate use, the T91 runs Intel's Atom Z520 CPU with 1GB of RAM, a 16GB SSD, WiFi b/g/n and Bluetooth 2.1.  According to Pocket-lint, it's a useful compromise between traditional Tablet PC functionality and netbook scale.Video demo of T91 GUI after the cut
They praise the sturdy hinge, which apparently resisted their best efforts to twist it into submission, and the three user-modes on offer.  As well as standard Windows XP Home, the T91 offers a quick-boot Eee Mode which allows for internet and Skype access within seconds, and a custom touchscreen-only GUI intended for finger use.
You can see the T91's GUI in action in the video below [via AsusTablet].  Overall, they're impressed, describing the T91 as a "welcomed diversion in design".  No word on performance from the Z520 CPU – which has proved disappointing in the Acer Aspire One 751 - but perhaps the touch focus of the T91 eclipses any interest in the 720p playback which so stresses the Atom chip. 
The ASUS Eee PC T91 is apparently available in select markets now, priced at around £449 ($684).