ASUS Eee PC S101 With 64GB SSD Shows Up: Eee For Expensive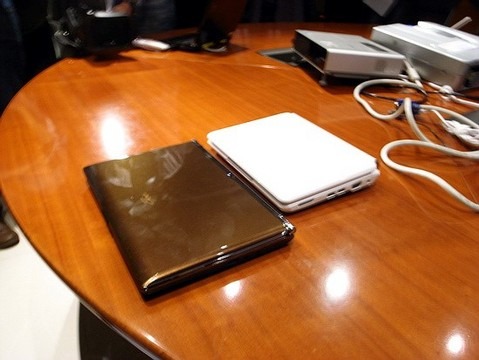 It might look like one of ASUS' regular ultraportables cosying up to an Eee PC, but if Crave Taiwan are to be believed this is actually the first shot of the company's Eee PC S101, a 10-inch netbook with a 64GB SSD.  ASUS have already confirmed their intention to launch large-capacity SSD models, some of which would be considered "high end" compared to the models we're used to, it seems that this S101 is the first of the new Eee breed.
Preliminary specs include an LED-backlit display, Intel Atom processor (no word on whether it's single or dual-core), and choice of 32GB or 64GB SSD storage.  All that in a package just 2.2cm thick and around 1kg in weight; the shiny casing will be available in coffee brown and white.
Where the difference between the original Eee's and the S101 really shows is in the price.  CNET Taiwan are saying $699 for the 32GB model and $899 for the 64GB.
[via UMPC Fever]