ASUS Eee PC 1215N Review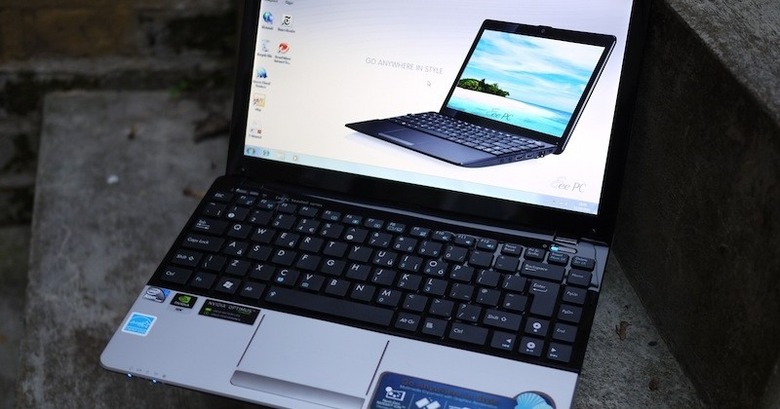 The line between a netbook and a notebook used to be pretty straightforward, but with Intel's increasingly powerful Atom processors and NVIDIA's ambitious Ion-powered Optimus graphics, the distinction is more blurred. Typifying this new breed of netbook is ASUS' Eee PC 1215N, a 12.1-inch Seashell-series machine that could well be considered a true ultraportable despite its roughly $500 price tag. Check out the full SlashGear review after the cut.
We've seen 12.1-inch netbooks before, of course, but seldom are the specs so strong as with the Eee PC 1215N. The display runs at 1,366 x 768, while the CPU is Intel's dual-core 1.8GHz Atom D525; they're paired with a NVIDIA Ion GPU which, thanks to Optimus technology, can automatically switch between the discrete graphics and the lower-power, more frugal onboard graphics when the situation allows.
That lets ASUS claim up to seven hours of battery life, despite the 1215N being capable of Full HD playback via its HDMI port. Other connectivity includes WiFi b/g/n, Bluetooth, three USB 2.0 ports, VGA, gigabit ethernet, audio in/out and an SD card reader. Some SKUs will also get USB 3.0. Storage is courtesy of a 5,400rpm 250GB hard-drive – with a bundled 500GB of ASUS' online WebStorage – and there's a 0.3-megapixel webcam which can be physically blocked with a sliding cover for those particularly paranoid about being secretly observed.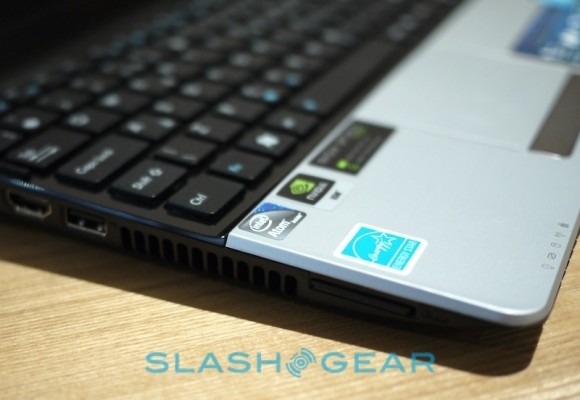 Despite the price, build quality is strong. The brushed-metal effect lid is plastic, of course, but the chassis is generally creak-free and the battery locks into place without wobble. The chiclet-style keyboard is well spaced – the 12.1-inch 16:9 display leaving a decent amount of width for it – with plenty of well-labeled shortcuts. The keys themselves are on the stiff side, which contrasts sharply to the amount of flex across the 'board; even during regular typing the bending middle section was obvious, and the combination adds up to somewhat odd finger-feel.
Underneath is a broad multitouch-capable trackpad in a metal-effect palmrest, with a single, hinged mouse button. The trackpad itself is responsive and smooth (and can be easily switched off with one of the keyboard shortcuts if you've plugged in a mouse) but we wish the button had been a little larger and easier to press. Above the keyboard there's the power button on the top right, then wireless and the ExpressGate instant-on OS button which quick-loads a straightforward interface for multimedia and browsing.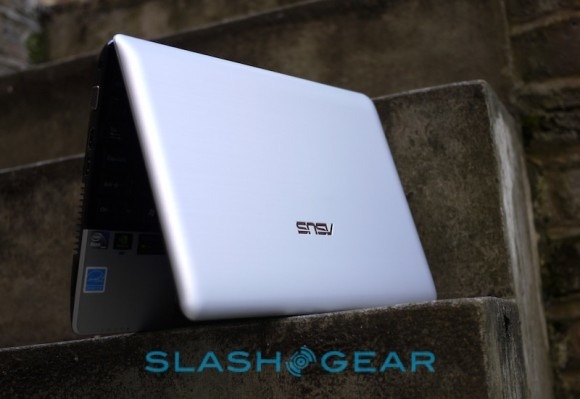 The main OS is Windows 7 Home Premium 32-bit, with a fair few ASUS extras preloaded. In addition to desktop shortcuts for Skype, the Times Reader, eBay and ASUS' own online documentation, you get trials of TrendMicro security, Office 2010, syncables and CyberLink YouCam. ASUS' own dock, update tools and other add-ons are also present. The dock, for instance, sits minimised at the top of the screen, and gives you quick-access to the company's cloud storage, sharing tools and other online components; useful if you've bought into the Eee PC ecosystem, but most people will probably choose to uninstall it.
[sgbenchmark id=122 show=score]
We loaded up Geekbench, a synthetic test of processor and memory performance, and the 1215N scored 1,301 overall. That's around 400 points higher than a previous-gen Atom N-series netbook would manage on average. We then turned to PCMark Vantage, a more comprehensive test of a system's various capabilities, and the Eee PC scored 1,907 overall, with particularly strong ratings in the HDD test (3,165), Music (2,380) and TV & Movies (1,611).
In day-to-day use, that adds up to a strong multitasking machine, capable of simultaneously streaming audio, playing 1080p HD video and still having power left over for email and browsing. Thanks to the second-gen Ion GPU, meanwhile (which the system intelligently switches over to from the regular GMA 3150 graphics) the 1215N is even capable of video processing, though we woudn't want to rely on it as our primary machine. Gaming also becomes an option, as long as you stick to the middle ground in the title's graphics settings, and of course there's the HDMI output for enjoying it on a bigger display. Handy, since the viewing angles of the 1215N's own 12.1-inch panel demand a little extra screen-angle tinkering compared to other netbooks we've seen, if you want to enjoy the highly-glossy display at its best.
Battery life is, unsurprisingly, heavily dependent on which GPU is being used; when we spent our time internet browsing over the 1215N's WiFi connection we managed 5.5hrs runtime. Playing 1080p HD video, however – there's 1080p Flash, for instance, with hardware acceleration, or the 1215N can handle local 1080p files in H.264, VC1, MPEG and other formats, player depending – and thus stressing the Ion GPU, and that dropped to just under three hours.
Still, it's a significant step up in performance and connectivity from a regular netbook, only with a fair chunk of the battery life retained and avoiding the price of a standard ultraportable. Intel's mobility-focused Atom N550 processor will likely err on the side of longevity (the D525 is intended as a desktop chip) but if your multimedia demands fall between the netbook and notebook camps then the ASUS Eee PC 1215N might well fit that gap. For £429/$485 we can forgive the flexing keyboard and missing USB 3.0 since the performance holds up so well.