ASUS Eee PC 1005HA-M & 1005HA-H announced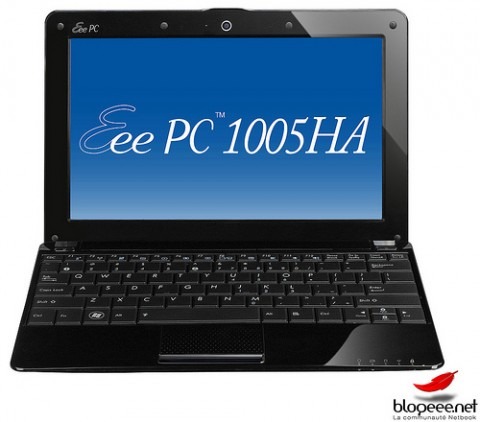 As expected, ASUS have announced new variants on the Eee PC 1008HA "Seashell"; unexpectedly, however, this isn't the 1005HAB as was tipped on the company's support site, but the ASUS Eee PC 1005HA-M and 10005HA-H.  The two new netbooks borrow the same sleek styling as the 1008HA, but pair it with removable batteries: a 2,200mAh good for 8hrs in the 1005HA-M, and a 2,800mAh good for 10hrs in the 1005-HA-5.Full specifications of the new Eee PCs after the cut
The ASUS Eee PC 1005HA-M also drops down a processor rung, with the 1.6GHz Intel Atom N270 chip, and makes do with WiFi b/g/n but no Bluetooth.  The ASUS Eee PC 1005-HA-H, however, keeps the N280 1.66GHz Atom processor from the 1008HA, together with the WiFi b/g/n and Bluetooth 2.1+EDR.  Both 1005 models have 1GB of DDR2 RAM, a 160GB 5,400rpm hard-drive and 10-inch WSVGA 1024 x 600 displays, though the 1005HA-H adds a glossy coating to that.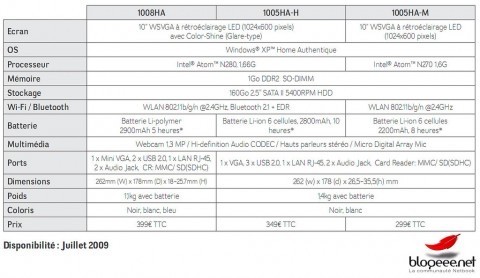 Connectivity for both models includes VGA, three USB 2.0 ports, ethernet, audio in/out and a 2-in-1 card reader.  They measure 262 x 178 x 26.5-35.5 mm, which makes them about 10mm thicker than the Eee PC 1008HA.  They're also 0.3kg heavier, at 1.4kg, and available in black and white.
The ASUS Eee PC 1005HA-M is priced at €299 ($405) while the Eee PC 1005HA-H is priced at €349 ($473), undercutting the Seashell by €100 and €50 respectively.  They'll go on sale in France by the end of July.