ASUS Eee PC 1004DN with DVD burner gets official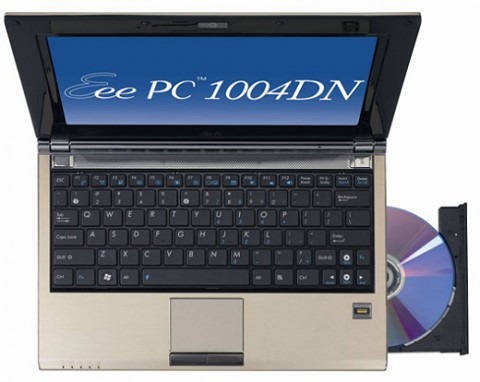 ASUS have officially announced their Eee PC 1004DN, the first model in the company's netbook range to include an integrated optical drive.  As well as an Intel Atom N270 1.66GHz processor, the Intel GN40 graphics chipset and up to 2GB DDR2 RAM, the ASUS Eee PC 1004DN has a Super-Multi DVD burner.
Other specs include up to a 120GB 1.8-inch PATA 4,200rpm hard-drive, a 10-inch WSVGA 1024 x 600 display and integrated Bluetooth 2.1 and WiFi b/g/n.  There's also a 1.3-megapixel webcam, array microphone and a fingerprint reader, plus an ExpressCard slot.  Overall dimensions are 277 x 194 x 27.4-34mm, and it weighs in at 1.45kg including the 6-cell battery and ODD.
ASUS claim you can eke up to 5.9hrs out of the battery, though we'd assume there's little to no DVD burning going on if you want to reach that figure.   No official pricing from ASUS, but according to the latest rumors from retailers the Eee PC 1004DN will hit stores in April priced at around $531-590.
Press Release:
Eee PC™ 1004DN – An Omni-capable Companion for All Occasions

Bringing Versatility and Expansion Capabilities to Users with Intuitive Ease and Comfort

Versatile, Intuitive and Elegant. These are the qualities found in the Eee PC™ 1004DN, an ultra-portable mobile internet device which provides mobile computing flexibility through intuitive interfaces and input methods while shrouded in an avant garde style. The Eee PC™ 1004DN is the first in the Eee PC™ range to feature a Super-Multi optical disc drive, enabling users to read and write optical discs for convenient data back-ups. A power-efficient Express Card slot provides expansion capabilities, along with plug-and-play compatibility and auto-configuration access. An ergonomic keyboard provides users with a more comfortable typing experience—even for prolonged periods—and the ASUS Super Hybrid Engine (SHE) technology lengthens users' entertainment and computing experiences by providing them with extended battery life while on-the-go.

Elegantly Designed with Functionality and Expandability in Mind

The Eee PC™ 1004DN is reminiscent of an artwork in motion, a subtle blend of tastefully selected materials brought together to present a sense of sophistication and elegance through contemporary design. Sporting a high-gloss UV LCD cover constructed from a combination of cutting-edge alloys, a lightweight yet robust frame is achieved while maintaining an exquisite exterior design. Within this delicate cover, an equally high-gloss bezel frames the 10-inch LCD display that supports 720p high definition playback for more vibrant and vivid visuals. With gorgeous brushed aluminum gracing the palm rest and an electroplated frame bordering the keyboard assembly, a hint of class is added to an already astonishingly beautiful design. Not just elegant, the Eee PC™ 1004DN is also highly versatile—being the first Eee PC™ to feature a Super-Multi optical disc drive (ODD) that reads and writes data to DVD or Compact Disc media while maintaining the same mobility factor. An Express Card expansion slot provides compatibility with USB 2.0 and PCI Express, providing thinner, faster and lighter modular expansion options to users.

User-centrically Designed for Intuitiveness, Connectivity and Convenience

An ergonomically designed keyboard provides users with a typing surface 92% that of a conventional desktop keyboard, and also features a larger "Shift" key for a smoother typing experience. The Eee PC™ 1004DN also features a multi-touch touchpad for intuitive and interactive control over multimedia playback, or surfing the Internet without using a mouse. A digital array microphone and a built-in 1.3 megapixel webcam allows users to communicate with their family and friends with ease, while an intuitive software suite with applications such as EzMessenger lets users synchronize data and communicate with their friends without an Internet connection. Data Sync allows users to synchronize their Eee PC™ 1004DN to their desktops with much ease, and Eee Splendid provides users with 4 different visual modes for an enjoyable viewing experience while conserving battery life for all-day entertainment. Last but not least, a convenient Font Resizer lets users view their documents and browse the Internet effortlessly by allowing them to adjust the size of the fonts presented on the display.

An All-day Companion with Fingerprint Security and Wireless Connectivity

The Eee PC™ 1004DN features the ASUS Data Security System (ADSM) which allows users to log-on using their fingerprints. Not only does it recognize multiple fingerprints belonging to the same user, it also allows him or her to encrypt a single folder with the same security system. 802.11b/g/n and Bluetooth® connection allow for faster Internet connectivity and pairing to other Bluetooth®-enabled devices respectively. Helping users enjoy more entertainment and surf the Internet is SHE, which intelligently monitors energy usage and helps extend the battery lifespan up to 5.9 hours*.

* Subject to system configuration and prevailing usage.
[Thanks Tom!]