ASUS Eee PC 1002HA gets official: $499 thin & light netbook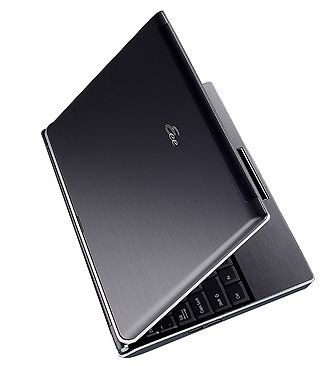 ASUS have officially announced the Eee PC 1002HA, which was first spotted back in October.  Borrowing some of the S101 luxury netbook's stylings, including a brushed aluminum lid and wrist-rest, the 1002HA measures 1-inch thick and weighs around 2.6lbs.  Under the hood there's the usual 1.6GHz Intel Atom N270 processor, 1GB of RAM and a 160GB hard-drive.
Connectivity includes WiFi draft-N, Bluetooth 2.0, a VGA port, three USB 2.0 ports and ethernet.  There's also audio in/out, a 1.3-megapixel webcam and a 4-in-1 memory card reader.  ASUS claim you'll get around 5hrs runtime in Windows XP from the two-cell 4,200mAh battery.
The ASUS Eee PC 1002HA is available from today, priced from $499.  Both Windows XP and Linux versions will be available, both including six months of 10GB online Eee Storage.
Press Release:
ASUS Introduces the Completely Redesigned Eee PC 1002HA Netbook

Slim, light, elegant; the new Eee PC 1002HA takes Netbook design to new heights while delivering the same legendary Eee PC mobility and ease of use

FREMONT, CALIFORNIA (December 1, 2008) – ASUS, a worldwide leader in notebook design and the fastest growing notebook brand, today announced the newest member of the award-winning Eee PC family – the Eee PC 1002HA. Featuring a redesigned chassis with a brushed aluminum LCD cover and palm rest, the 1002HA is a sophisticated, lightweight, easy to use netbook that brings a touch of elegance to every day computing.

Thin-and-light

The 1002HA was designed for maximum mobility, and weighs just 2.6lbs. while measuring 1-inch thick. To make the netbook as light as possible without sacrificing rigidity, ASUS chose to use brushed aluminum for both the LCD and the palm rests, which results in a beautiful look that allows the 1002HA to feel exceptionally solid despite its thin stature.

Super Hybrid Engine

The 10002HA features ASUS' exclusive Super Hybrid Engine (SHE) technology, allowing it to both lower the CPU clock speed to increase battery life or crank the clock speed up even beyond the stock speed when maximum power is required. By pressing a button above the keyboard, the 1002HA can be quickly cycled through several performance states on-the-fly.

Eee Online Storage

In addition to its generous 160GB of primary storage, the 1002HA also includes 10GB of online storage via ASUS Eee Online Storage. This service allows users to share files with anyone, and to also have access to Eee Online Storage anywhere there is Internet access. Eee Online Storage is also very useful for backing up important files as well.

Wireless Connectivity

As the original netbook, the Eee PC is designed to keep users connected to the Internet and wireless devices at all times. To accomplish this, it features the latest wireless technology, including support for Bluetooth and blazing-fast 80211.n Wi-Fi, which is six times faster than standard 80211.g speeds.

Extra-long battery life

The ASUS Eee PC family of netbooks offer incredible battery life thanks to their power-saving design, and the 1002HA is no different. It uses a custom-made, polymer battery that boasts two high-capacity cells offering 4200mAh for up to five hours of unplugged computing time.

Availability

The Eee PC 1002HA will launch in the US on December 1st, 2008 with an MSRP of $499. It will be available through ASUS's global network resellers. For full specs, please visit our website.