ASUS Eee Pad Transformer vs Acer Iconia Tab A500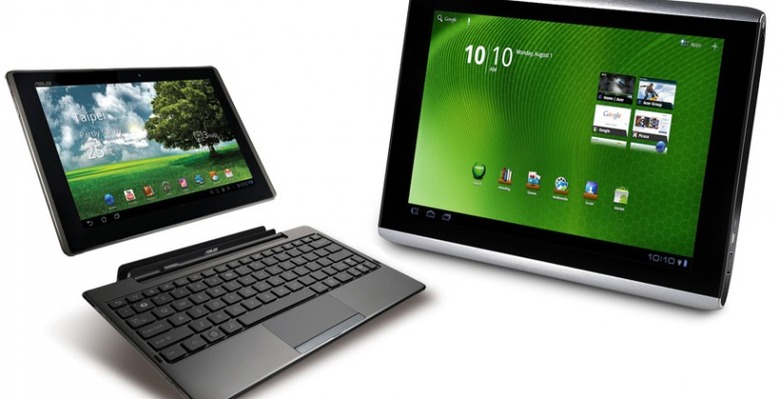 Motorola's XOOM had its chance to sweep the Android 3.0 Honeycomb market; now the low-cost slates from Taiwan are here to steal its thunder. Acer has priced its 10.1-inch Iconia Tab A500 tablet this morning at an iPad 2 undercutting $450, while the eagle-eyed spotted ASUS' Eee Pad Transformer at a mere $400 last month before the listings were pulled. Both are expected to hit the US later in April, but how do they compare?
On the face of it they're pretty similar. Both have a 10.1-inch 1280 x 800 capacitive touchscreen, run NVIDIA's 1GHz dual-core Tegra 2 processor and 1GB of RAM. Each has 16GB of internal storage along with a microSD card slot – good for up to 32GB cards – along with a 32GB native model on the way. Connectivity includes WiFi b/g/n on both (the A500 adds in 802.11a support) and Bluetooth 2.1+EDR, together with a mini-HDMI port for outputting up to 1080p HD video. 3G versions of each tablet will follow later in the year.
Both the A500 and the Transformer have a 5-megapixel main camera on the back, with autofocus and an LED flash, though the Acer has a 2-megapixel webcam on the front versus the ASUS' 1.3-megapixel sensor. Whether that will make a significant difference to video calls remains to be seen; most of the time the compression involved means they're pixelated for bandwidth reasons rather than the limitations of the sensor. Stills should be a little crisper, though.
ASUS Eee Pad Transformer hands-on:
[vms 1f9b250ba689db6a0222]
The A500 is 10.24 x 6.97 x 0.52 inches and 1.69 pounds, while the Transformer is slightly wider at 10.6 x 6.9 x 0.51 inches but a fair chunk lighter at 1.49 pounds. It's battery life where the Eee Pad Transformer really slips ahead, though. ASUS' tablet alone can manage 9.5hrs, 1.5hrs more than Acer expect from the Iconia Tab, but of course there's also the keyboard dock to consider. That boosts the Transformer's runtime to 16hrs in total, besting not only the A500 but Apple's iPad 2 as well. It also offers easier text-entry; for $69.99 Acer will sell you their Bluetooth keyboard for use with the Iconia Tab, but each slate should work with any generic Bluetooth 'board you may have.
Not all 10.1-inch displays are created equal, and ASUS's decision to use an IPS LCD on the Eee Pad pays dividends. It's one of the best panels we've seen on a tablet, offering iPad-like viewing angles no matter which orientation you're holding the slate in. ASUS reckons it's a 178-degree view angle, and in comparison the 160-degree Iconia Tab with its regular LCD is distinctly average.
Acer Iconia Tab A500 hands-on:
[vms bbc20318224181fa46b2]
If ASUS can really bring the 16GB Eee Pad Transformer to market at $400, we'd certainly lean toward it over the Acer. The battery-toting keyboard dock is set to cost another $149 alone, but the usability and extra runtime should make that more palatable to most buyers. We'll know more when we have full review time with both tablets, but either way it seems the iPad 2 finally has some competition on not only specs but pricing.
More details in our Acer Iconia Tab A500 hands-on and in our ASUS Eee Pad Transformer hands-on.