ASUS Eee Ebook Reader Could Launch In 2009 Says CEO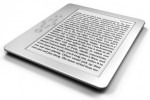 It's been a while since we've heard anything of ASUS' ebook reader intentions, but according to DigiTimes the company's CEO, Jerry Shen, has confirmed that they plan to have a device on the market by the end of 2009 at the earliest.  Slotting into the company's Eee brand of low-priced consumer electronic devices, Shen failed to give suggestions of specifications or pricing for the upcoming reader.
Meanwhile you can't have a DigiTimes story without some shady "industry sources" mentioned, and sure enough those talkative tipsters have fingered MSI as also "evaluating the ebook market".  That doesn't seem all that far-fetched; we imagine most companies have done exactly that, given the sales success of the Amazon Kindle.
However those same sources are also highlighting that MSI may yet decide to hold off on the segment, as while the cost of manufacture are lower for eBook readers than they are for netbooks, there's greater complexity in developing a content delivery platform.  Still, with more people offering EPUB format ebooks, it's possible that a low-priced, wireless-enabled device might pick up the budget end of the market, as long as it had a book-search friendly UI.