Asus Eee 8.9" 900 model details announced - impressive storage capacities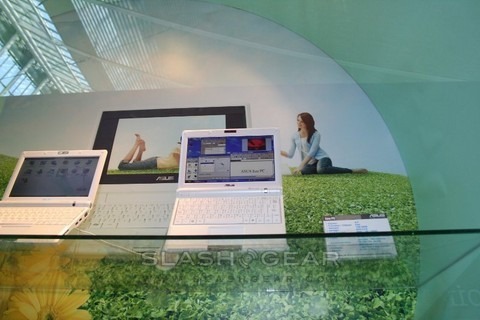 So Asus has apparently sold over a million Eee's sold in 5 months, since its launch date, and in celebration Asus decided to let us all in on the details of its next concoction. Obviously it will have an 8.9-inch LCD screen, a 1.3MP camera, 12 or 20GB of flash storage depending on OS, and something called FingerGlide.
FingerGlide is apparently exactly what you thought it was, Asus' version of gestures on the touchpad. On the Windows you'll get Windows Live Mail and Windows Live Messenger pre-installed as well as Microsoft Works (oxymoron?). The Linux OS is the same one they've been installing, nothing new to see here.
Something that is interesting is the storage capacities, how they were added to the system, and how the two different capacities were allocated. For some reason, the less storage intensive OS (Linux), gets the larger storage capacity, the 20GB of flash storage with the 12GB going to the Windows machine. The interesting part is that Asus has made the decision to only embed 4GB of that storage onto the machine's board this time, likely for a separate OS partition/drive. The remainder of each storage capacity is plugged into the mini PCI card slot, making for an easy upgrade if you can get a hold of that type of storage.
The Processor's operating speed wasn't given out which is weird, but I read somewhere it will be the same 900MHz Intel chip as previous models. They'll be available in Black and White, and everything else is the same including the fact that they still weigh in under a kilogram, although just barely at .99kg.
[via Asus]