ASUS debuts Zen AiO all-in-one with USB 3.1, RealSense 3D camera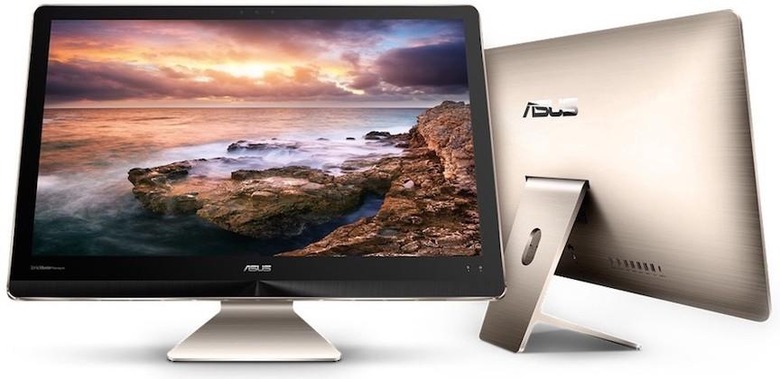 ASUS has just announced its first all-in-one desktop PC to be included in their Zen line of premium products: the 23.8-inch Zen AiO (Z240IC), boasting both USB 3.1 connectivity and Intel's RealSense 3D camera technology. There is also a 21.5-inch model Zen AiO (Z220IC), which leaves out the RealSense. Both models feature a design that's right out of Apple's iMac design book, with an aluminum unibody that tapers down to only 6mm thick on the edges, and a display behind edge-to-edge glass.
Meanwhile, inside the "Icicle Gold" colored aluminum shell, specs will top out with an Intel Core i7 processor with up to 32GB of DDR4 RAM, SSD storage, and a Nvidia GeForce GTX 960M graphics card featuring 4GB of dedicated video memory. Each side of the computer has three speakers, with a combined 8-watt stereo channel.
The Zen AiO is the first all-in-one PC with USB 3.1 Generation 2 ports, claims ASUS, offering twice the data transfer speeds of USB 3.0. Plus, users will find a reversible USB 3.1 Type-C port on the machine.
As for the Intel RealSense 3D, the camera can be used for gesture controls and motion-sensing features, in addition to acting as a 3D scanner. It is also capable of 3D face recognition, but for authentication purposes.
Sadly, ASUS has yet to reveal pricing details on either Zen AiO model, nor an availability date.
SOURCE ASUS