ASUS Chromebook Flip C100 is now available for purchase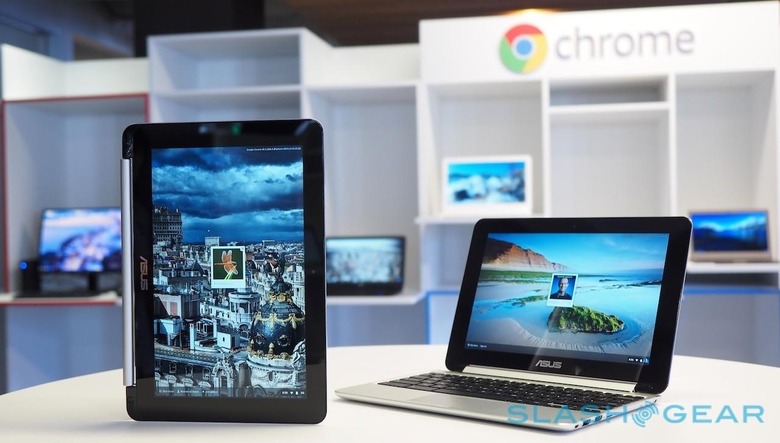 After almost four months of teasing, ASUS has finally unleashed the surprising wonder that is its Chromebook Flip, model C100 to be exact. This little affordable portable that can tries and succeeds where many other Chromebooks of its ilk couldn't, delivering a wallet-friendly browser-oriented computer that doesn't look and feel its price. With prices starting at $250, the ASUS Chromebook Flip brings that now popular folding convertible factor to the Chromebook line, providing a laptop workstation when you need it and a touch-based web browser when you want it.
The Chromebook Flip was honestly a bit of a surprise. Aside from Google's Chromebook Pixel, you usually don't set high expectations for this particular device line. Sure, some Chromebooks do look exquisite, but those are the exceptions, not the rule. Most seem to say "you get what you pay for."
Not so this ASUS take. It definitely felt worth more than its selling price, both in build and performance. The 1.8 GHz quad-core Rockchip might have elicited some concerns, but based on our own tests, it's merely a perceived worry. Of course, being a Chromebook, you're not going to do some heavy work on it, but even for browser games and video streaming, the chip held just fine.
Check out our full review of the ASUS Chromebook Flip to see what has us impressed.
Of course, not everything might be perfect. The 10.1-inch 1280x800 display might do OK for 720p content, but it won't be stellar. There's a touchscreen, but, since this is Chrome OS, not everything might be optimized for touch. That's where the keyboard comes in, which can be easily folded back for a more tablet experience, and folded out again when needed.
The ASUS Chromebook Flip can now be bought from retailers like Amazon. Prices range from $250 to $300, depending on the RAM, which is either 2 GB or 4 GB. Storage for both is capped at 16 GB.
SOURCE: ASUS