ASUS boost PC speed by 37%, cut energy by 80% with Dual Intelligent Processors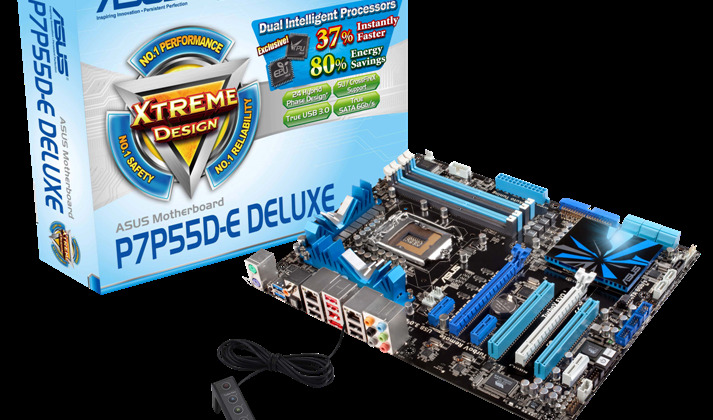 ASUS has unveiled its latest motherboard innovation, Dual Intelligent Processors, which the company claims will instantly make systems 37-percent faster and make 80-percent energy savings.  Found on the ASUS P7P55D-E Deluxe 'board, among others in the company's range, the key change is the addition of a "TurboV Processing Unit" (TPU) and an "Energy Processing Unit" (EPU); these take on system-intensive processing and real-time power management, respectively.
The TPU system is basically a way of automatically optimising the PC without necessarily having the skills to do so manually; experienced system builders could probably eke out the same performance improvements (or better) but for mainstream consumers it might stretch a little extra grunt out of their CPU.  ASUS tested it with a 2.9GHz Core i3-530 processor: without the TPU switched on the CPU scored 8620 in 3DMark Vantage, while with it active it managed 11,782.
As for the EPU, that basically tracks usage and throttles back the system accordingly; when you're doing low-impact tasks like basic browsing or emailing, ASUS assume, you don't need your PC running at full-whack.  Full list of ASUS motherboards with the Dual Intelligent Processors below: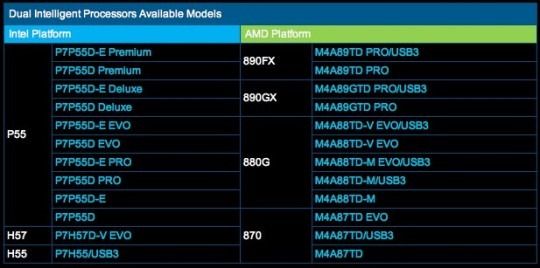 Press Release:
ASUS-exclusive Dual Intelligent Processors Motherboards Deliver a Perfect Harmony of High Performance and Energy Savings

Dual Intelligent Processors optimize system performance and energy efficiency.

ASUS, the global motherboard leader, has announced a new approach to motherboard design, Dual Intelligent Processors, with two intelligent co-processors responsible for system optimization towards better performance and greater energy efficiency.

This cutting edge architecture comprises the TurboV Processing Unit, or TPU, and Energy Processing Unit, or EPU. Together they help users benefit from extreme system performance while still conserving the environment by reducing a PC's ultimate carbon foot print.

The co-processors address the two prime issues behind PC hardware evolution–performance and energy efficiency. As CPU makers strive to reach ever higher core counts and 32nm fabrication, this technology from ASUS promotes system optimization, utilizing smart design to enable performance while at the same time saving energy. It presents an effective way to get more out of existing PC hardware.

Performance Processing Unit for Significant Acceleration

The TPU consists of a complete overhaul of ASUS' extant TurboV design, presenting a support processing unit dedicated to speeding up performance in real time while monitoring gains to ensure stability. The TPU relieves much of the stress put on the CPU during intense tasks, tuning overall resources to achieve the fastest performance possible. The TPU supports various ASUS-exclusive performance tweaking innovations, and this auto tuning feature quickly finds optimized system settings to boost output up to 37%.

"Delivering amazing performance requires considerable finesse, especially in a user-friendly manner. ASUS TPU technology makes that possible. While manual system tuning calls for expertise and has too many variables that can go wrong, the TPU helps users gain hassle-free improvements so they can enjoy and do more on their PCs", said Joe Hsieh, General Manager of the ASUS Motherboard Business Unit.

Major Savings on Demand

The ASUS proprietary EPU, or Energy Processing Unit, comes in as the second of the Dual Intelligent Processors. It monitors and moderates power consumption, helping users save energy and ultimately lower their carbon emissions. EPU programming keeps close watch on actual usage, reducing consumption during low intensity activities and opening up processing capabilities when needed. When engaged in web browsing, word processing and office activities, this translates into major savings for most users. Performance mode engages automatically on demand, so there's never any lag involved.

ASUS Dual Intelligent Processors technology is available on a full range of motherboards. Please check www.asus.com for further information.

###

About ASUS

ASUS, maker of the world's best selling and most award winning motherboards, is a leading company in the new digital era, with a broad product portfolio that also includes notebooks, netbooks, multimedia, graphics cards, displays, desktop PCs, servers, wireless solutions, mobile phones and networking devices. Driven by innovation and committed to quality, ASUS designs and manufactures products that perfectly meet the needs of today's digital home, office and person. ASUS won 3,268 awards in 2009, and is widely credited with revolutionizing the PC industry with the Eee PC™. With a global staff of more than ten thousand and a world-class R&D design team, the company's revenue for 2009 was US$7.5 billion. ASUS ranks among BusinessWeek's InfoTech 100, and has been on the listing for 12 consecutive years.