ASUS Bitcoin miner motherboard runs 20 GPUs at once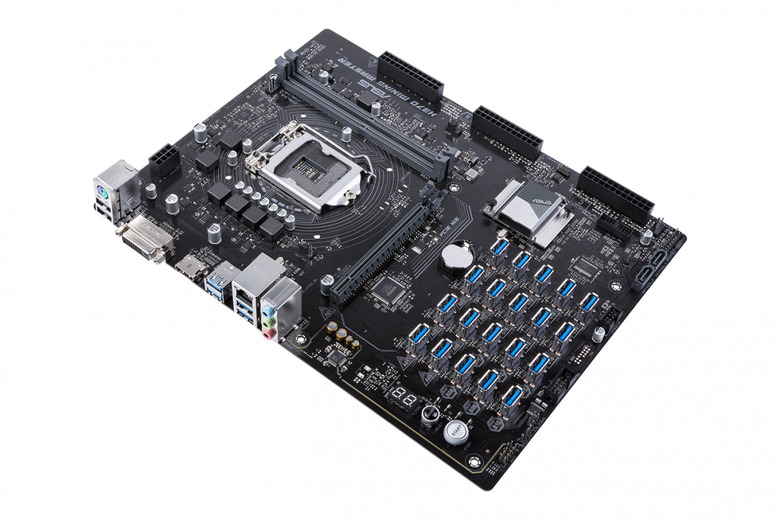 ASUS is taking an interesting angle with its latest high-end motherboard. While we'd expect many motherboards coming from ASUS to be aimed at gamers or mainstream PC builders, this new one is all about cryptocurrency mining. Say hello to the ASUS H370 Mining Master motherboard.
This is actually a follow up to the B250 Mining Expert, which was released last year. In its announcement today, ASUS said that the B250 performed well beyond expectations, with excellent sales that proved there's a space in the market for motherboards centered around cryptocurrency mining. The H370 Mining Master, therefore, is a refinement of what ASUS started with the B250.
What makes the H370 different from your usual motherboard? All you need to do is look at an image of the hardware and you'll know right away, as its 20 PCIe-over-USB ports definitely stand out. With these, ASUS is looking to simplify the process of connecting multiple GPUs to your motherboard.
Typically, mining rigs are built around multiple graphics cards that are connected to the motherboard using GPU risers. These risers provide external PCIe slots for your various GPUs, and many of them transfer data over a USB cable that connects to your motherboard's PCIe x1 slot. ASUS is removing a step from that process – instead of attaching an x1 connector to the end of your riser's USB cable, you can instead plug the cable directly into one of the PCIe-over-USB ports on the H370.
This change accomplishes a few things. It saves on space, allowing your motherboard to host more external PCIe connections, and it removes the need for x1 connectors entirely, cutting down on the number of parts required for your mining rig and providing a more sturdy connection between your risers and your motherboard. Have a look at the full list of specifications below.
Size – ATX, 12"x9.1"
Socket – LGA 1151 for Intel 8th Gen Core / Pentium / Celeron processorsMemory – 2 x DIMMs (max. 32GB), DDR4 2666 / 2400 / 2133 MHz, Non-ECC, unbuffered memoryPCIe – 1 x PCIe x16 slotStorage – 2 x Serial ATA 6.0 Gb/s connectorsNetworking – 1 x Intel Gigabit LANUSB GPU Riser Ports – 20 x Vertical USB ports over PCIeUSB Ports – 6 x USB 3.1 Gen 1, 4 x USB 2.0 / 1.1 portsOther Ports – 1 x COM header
ASUS is also launching the H370 Mining Master with "a suite of diagnostic features designed to make your platform easier to manage." GPU State Detection plays an important role in these diagnostic features, scanning your system on start up to determine which of those PCIe-over-USB ports are empty, which are connected to an operational GPU, and which (if any) of your GPUs are experiencing problems.
All in all, it sounds like this motherboard will allow you utilize a lot of horsepower while simplifying the process of building your mining rig, and that can only be a good thing. It'll be a while longer before it arrives on shelves here in North America, as ASUS is currently targeting a Q3 2018 release. No word on pricing just yet, but we can probably expect it to be priced similarly (if not a little higher) than the B250.