ASUS announces new F70 and F50 range of media notebooks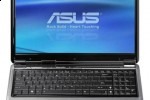 ASUS has just announced the new F50 and F70 range of notebooks designed to bring users a range of multimedia features as well as extensive multitasking capabilities. The F50GX offers great graphics with the NVIDIA GeForce 9400M G dedicated graphics chipset. The F70Sl offers users an astounding 1TB of storage space allowing users to do more on the go.
The F50GX runs Windows Vista with a build in 1.3-megapixel integrated webcam and Bluetooth support. For entertainment purposes you can choose between a 16-inch (1366 x 768) or 15.6-inch (1366 x 768) HD panel to watch great Blu-ray movies in HD.  The F50Z has an AMD M780G with DDR2 800 up to 4GB of RAM and also includes a built-in Blu-ray player. The F70SL on the other hand has a SIS 671 DX + SiS 968 chipset running Windows Vista Home Basic or Premium. Unlike the previous models, the F70SL has a 17.3-inch HD+ (1600 x 900) LCD display with no Blu-ray player.
This new line of notebooks being offered by ASUS seem powerful enough to handle great movies on the go, but there is no mention as to what the battery life is like.  There was also no information on suggestive pricing. Definitely geared to catch your attention, I sure can't wait to get my hands on one of these notebooks.