Mesh networking is becoming an increasingly popular solution to extending the range of home and business WiFi networks over a large area. Getting started with mesh networking, however, can be a bit on the expensive side. Getting up and running with a mesh network can mean having to replace your old router and purchase a bundle that comes with a new router and the nodes that will form your mesh network.
ASUS believes it may have a solution to this problem with a new feature called AiMesh. Essentially, AiMesh makes it so you can turn existing ASUS routers into nodes in a mesh network, in some cases allowing you to avoid replacing the hardware you already own and buying all new equipment.
AiMesh is being offered as a free update for ASUS routers, and setting things up seems simple enough. Once you have the most recent firmware applied to the router you want to act as the central hub in your mesh network, you can connect other routers as nodes by putting them near your main router, installing the latest firmware, and performing a factory reset. Once you've done that, you'll have the option of adding them as nodes within the ASUS Router app.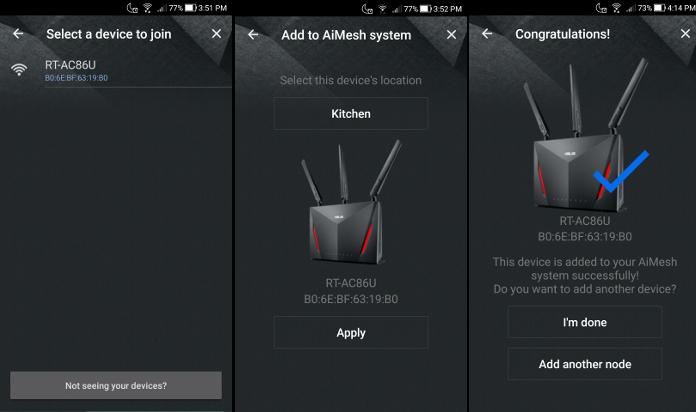 It should be noted that for now, support for AiMesh is limited to just six router models: RT-AC68U, RT-AC88U, RT-AC3100, RT-AC86U, RT-AC5300, and GT-AC5300. The least expensive of these is the RT-AC68U, which has a list price of $160. While this might be a good solution for you if you've got some of these routers lying around already, you might want to go with another mesh networking solution like Google WiFi or eero if you're starting with nothing.
Still, if you already have one of these routers and you only need to add one or two extra nodes, this is certainly a nice option to have. We'll see support for more routers come online throughout 2018, perhaps making this an even more attractive mesh networking option as the year goes on. For now, you can grab the beta firmware that enables AiMesh from ASUS and get going with a mesh network of your own.