ASUS 5870 EYEFINITY 6/6S/2GD5 packs six DisplayPorts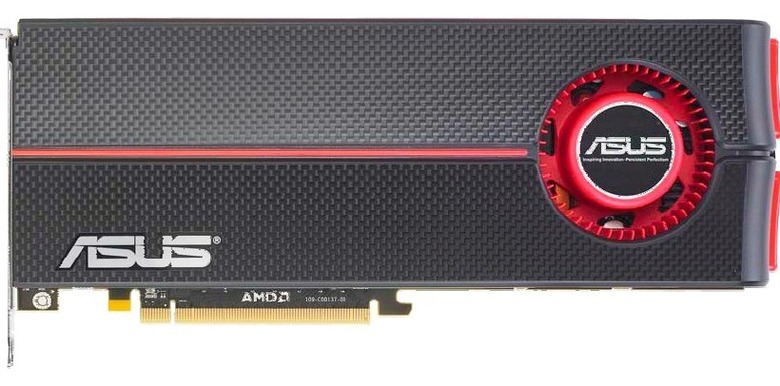 Remember ASUS' beastly ROG overclocked Radeon HD 5870 graphics card we saw leaked a while back?  The new ASUS 5870 EYEFINITY 6/6S/2GD5 doesn't look to be quite the same card, but it's not hard to see the family resemblance: packing an overclocked 850MHz Radeon HD 5870 GPU paired with 2GB of GDDR5 memory, the card has a full six Mini DisplayPort connectors for driving six monitors separately.
The PCI Express 2.1 card has 1600 stream processors and a 256-bit interface, and each of the six outputs can drive a display up to 2560 x 1600.  Alternatively, thanks to ATI Eyefinity, you can extend a single view across all six displays; there are also DVI and HDMI adapter dongles in the box.
That 850MHz GPU clock speed can go even higher, too, using ASUS' own Voltage Tweak system – they reckon you can boost it by up to 50-percent, in fact – and of course it's HDCP compliant, supports DirectX 11 and can even be paired with a second card in CrossFireX configuration.  Heavy stuff, but sadly ASUS are keeping specific availability and pricing details to themselves for the moment.