ASUS 2010 Notebook Lineup Detailed: Core I7, NVIDIA Optimus & Fermi 400-Series Graphics?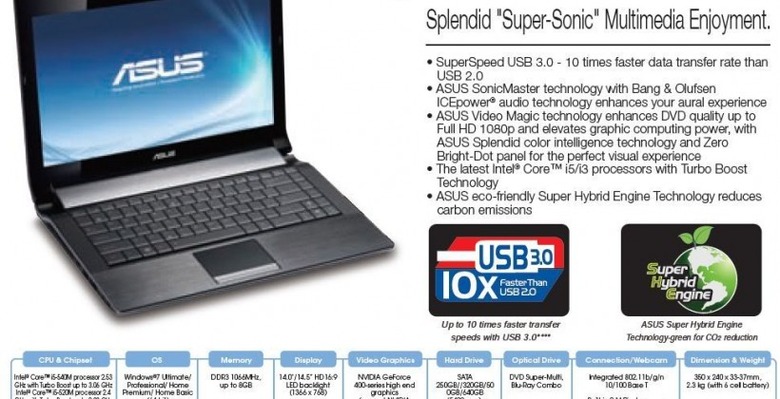 If you're in the mood for a new ASUS laptop, set aside half a day or so to go through the company's upcoming models.  Notebook Review forum member – and patient soul – David grabbed ASUS' latest brochure and went to work snipping out photos and spec sheets of what's just around the corner.  Many of the laptops have already been announced, or at least have some partial specifications attached, but there are some gems in there too.
For instance, ASUS have signed up to NVIDIA's Optimus technology – which can flip automatically between integrated and discrete graphics depending on how you're using the notebook – across their U-series of machines, and then again on certain UL-series, N-series and PL-series models.  There's also at least one notebook, the ASUS N43JF, which will apparently get NVIDIA GeForce 400-series graphics, which has prompted speculation about a mobile version of the Fermi chipsets the GPU company announced last week.
In all there are 36 different SKUs, spanning everything from ULV ultraportables, mainstream machines and high-powered desktop replacements and gaming notebooks.  CPUs range from Intel's CULV line-up to the 2.66GHz Core i7-620M and Core i7-720QM.  Full details here.
[via Engadget]