Astro Gaming Nintendo Switch headset in the works: What we know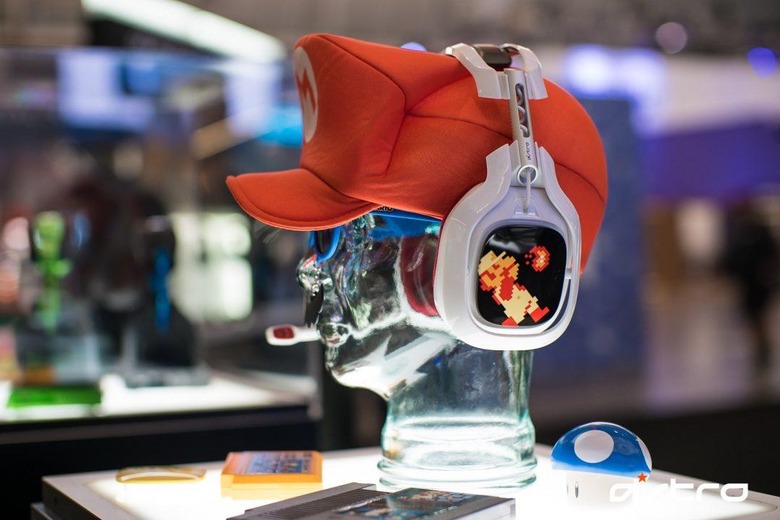 With Nintendo Switch's online ecosystem set to officially launch in September – complete with a yearly fee customers must pay to play online – there's a rather big elephant in the room that needs to be addressed: voice chat. Currently, the voice chatting solutions we have for the Switch are inelegant, as those wishing to communicate with other players generally need to do so through a mobile app. Since voice chat isn't handled on the Switch console itself, letting players chat with friends while listening to in-game audio becomes a big challenge for manufacturers looking to make headsets for the Switch.
Case in point is this monstrosity from HORI. Announced around the time Splatoon 2 came out, this headset allows players to hear what's happening in game as they chat with friends and teammates through the Switch's mobile app, but it does so in a way that doesn't look or feel all that great. We shouldn't hold it against HORI, though, as it seems the company has done the best it can with the wacky online setup Nintendo has thrust upon it.
Perhaps another manufacturer can come up with a better solution? We're not sure if that's even possible, but if it is, we're hoping that Astro Gaming can do it. Today, Astro announced a new partnership with Nintendo that will see it release a headset made specifically for the Switch later this year. Digital Trends says the headset will be arriving in time for the holidays and feature designs centered around Nintendo characters, but aside from that, we know almost nothing else about it.
We can more than likely count on Astro to deliver a pair of cans that sound good, but there's no mention of voice chat in today's announcement. We're going to have to wait until we're closer to release to find out how – or even if – Astro will attempt to fix that problem, as well as what this headset will look like and how much it will cost.
In the more immediate future, this partnership will see the creation of Nintendo-themed speaker tags for the Astro A40 line. These speaker tags will themed around the original Super Mario Bros. (pictured above), Super Mario Bros. 3, and The Legend of Zelda. They look pretty neat, but for now, we don't have any details on pricing or release dates for them. Keep your fingers crossed, because here's hoping Astro can come up with a nice solution for the Switch's big voice chat problem.